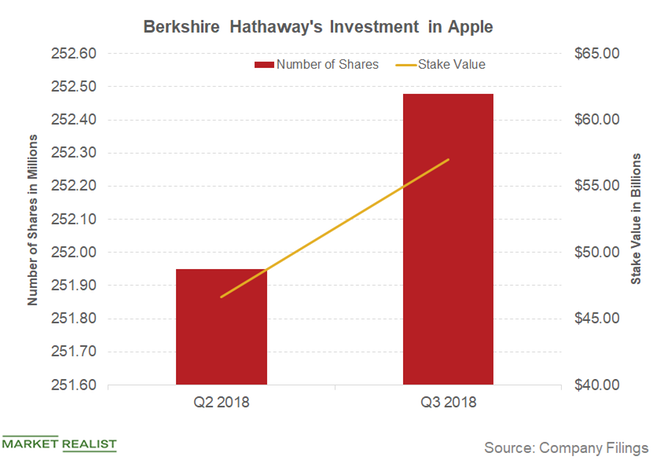 An Apple a Quarter Might Not Keep Berkshire Healthy
By Mohit Oberoi, CFA

Dec. 17 2018, Updated 11:05 a.m. ET
Warren Buffett
As noted in the previous article, Warren Buffett's Berkshire Hathaway (BRK-B) continued to add Apple (AAPL) in the third quarter. Buffett started buying Apple in 2016 and until about a quarter back, all looked well with Apple. The company raced past the $1 trillion market capitalization mark this year. However, Apple has lost ground and also its position as the largest listed company. While Amazon (AMZN) and Microsoft (MSFT) have been in a tight race for the largest company tag, the trophy was with Microsoft based on last week's closing prices.
Article continues below advertisement
Apple
Apple's valuations might now start to appear compelling to some after the recent fall. However, what we might see is a structural shift for Apple. The US-China trade war, even if resolved, might lead to lower sales for Apple in China. While Apple was upbeat on China during the last quarter's earnings call, Chinese consumers have in the past shunned products from countries that have been involved in a political tussle with the country.
While we might see some sort of a trade agreement between the US and China, the political and diplomatic rift might last much longer. It has been a fight for political domination as China has been trying to spread its influence beyond its borders. The position taken by the United States (QQQ) on China's BRI (belt and road initiative) is a testimony to how the US has been trying to limit China's growing clout.
Meanwhile, earlier this year, Buffett sounded optimistic about US-China trade relations. We'll discuss this more in the next article.