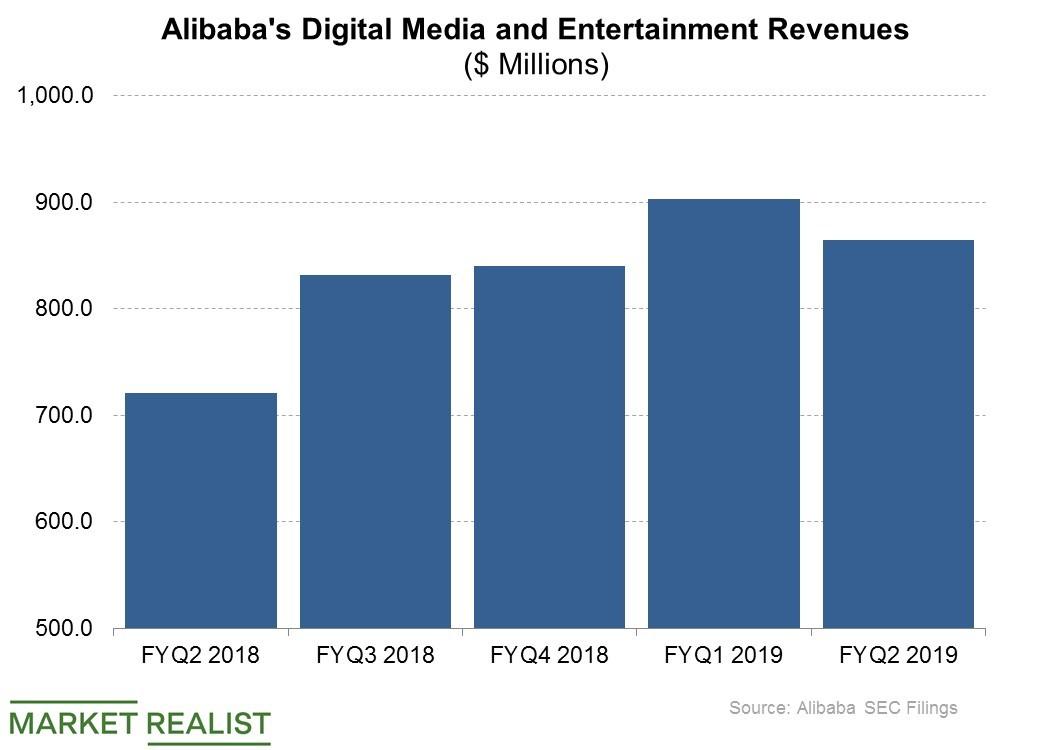 Alibaba Is Tightening Its Grip on Alibaba Pictures
Digital media revenue rose 24%
Alibaba (BABA) is investing as much as $160 million to become the controlling shareholder in Alibaba Pictures, a Hong Kong–listed Chinese film company. Alibaba already owns 49% of Alibaba Pictures, a stake that's set to rise to 51% once the latest investment deal is complete.
Alibaba's interest in Alibaba Pictures falls under its digital media and entertainment division, where its revenue rose 24% year-over-year to $865 million in the second quarter of fiscal 2019, which ended in September.
Article continues below advertisement
Going beyond commerce
As commerce-related operations currently account for the vast majority of Alibaba's revenue, the company has ventured into fields such as digital media and entertainment and cloud computing to try to diversify its business. Commerce operations accounted for 85.5% of Alibaba's total revenue in the second quarter of fiscal 2019. At Amazon (AMZN), commerce accounted for 88% of revenue in the comparable period.
Diversifying the business
But the need to diversify revenue streams isn't just a concern for e-commerce companies such as Alibaba and Amazon. Many Internet companies are also trying to diversify. Alphabet (GOOGL), which relied on advertising for more than 86% of its total revenue in the third quarter, has ventured in the cloud, hardware, and ride-hailing businesses to open up new revenue sources outside advertising.
Baidu (BIDU), which generated 81% of its revenue from advertising in the third quarter, has also ventured into the cloud business. Facebook (FB) and Twitter (TWTR) have ventured in fields such as hardware and data licensing in efforts to diversify their revenue sources.