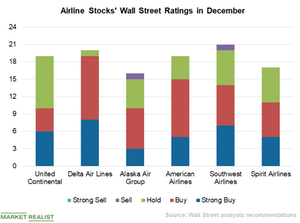 Airlines' Rating Downgrade: Investors Are Cautious
By Anirudha Bhagat

Dec. 17 2018, Updated 3:40 p.m. ET
Rating downgrade
Investors became increasingly cautious in the first week of December. On December 7, Wolfe Research analyst Hunter Keay downgraded the rating on the airline industry and questioned bullish arguments about the industry.
Credit Suisse (CS) and Goldman Sachs (GS) turned increasingly bullish on the airline industry (JETS). They expect falling oil prices, better cost management, and disciplined capacity enhancement to help US airlines witness margin expansion in 2019.
Article continues below advertisement
Keay seemed to disagree with the research firms' view. He isn't convinced that airlines have learned from their mistakes. In the past, airlines used the benefits of lower oil prices to enhance capacity, which resulted in massive pricing competition in the industry and lowered the margins. Keay thinks that there's a considerable probability that airlines could repeat the same mistakes this time. Therefore, he lowered his rating on the industry to "market underweight" from "market overweight."
Company-wise, Keay downgraded the ratings on American Airlines (AAL), Spirit Airlines (SAVE), Hawaiian Holdings, and JetBlue to "peer perform" from "outperform." Talking about company-specific reasons for the downgrades, Keay stated that every company has its own problems.
Analysts' consensus ratings
Most of the analysts polled by Reuters have provided "buy" recommendations on stocks in the airline industry. The stocks include Goldman Sachs and Credit Suisse's favorite picks. Goldman Sachs' top picks are American Airlines and Alaska Air Group (ALK). Apart from Alaska Air, Credit Suisse's favorite picks also include Delta Air Lines (DAL) and United Continental.
About 79% of the analysts covering American Airlines provided a bullish recommendation. The consensus one-year target price depicts a 49% gain from current market prices. Alaska Airlines received bullish ratings from nearly 63% of the analysts. Alaska Airlines' target price of $81 projects a 30% return in a year.
Delta and United Continental received "buy" ratings from ~95% and 53% of the analysts. Their one-year target prices of $69.63 and $104.24 depict returns of 30% and 19%, respectively.