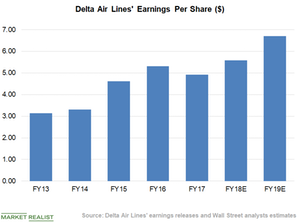 Airlines: Investors Are Concerned
By Anirudha Bhagat

Dec. 17 2018, Updated 2:10 p.m. ET
Outlook missed the estimates
On December 13, Delta Air Lines (DAL) provided updates on its 2019 outlook during a meeting with investors. Delta's updates fell short of analysts' expectations. For 2019, Delta expects an EPS between $6 and $7 (the midpoint is $6.50). Although at the midpoint, the earnings forecast signifies strong ~20% growth from the 2018 expected EPS of $5.59, it fell short of analysts' consensus estimate of $6.69.
Delta is the second-largest US airline based on the fleet size. The company expects its 2019 revenues to grow 4%–6% (the midpoint is 5%). For 2018 and 2019, analysts expect 5.5% growth, which is higher than the midpoint of the company's guidance range.
Delta's pessimistic outlook put pressure on airline stocks last week. Investors seemed concerned about airlines' margin expansions in 2019 despite a drastic fall in oil prices. Oil prices have fallen ~33% from their peak of $76.41 on October 3.
Article continues below advertisement
Other key updates
Delta expects is expecting its non-fuel unit cost to increase 1%. The company expects lower oil prices to help it save $300 million on fuel costs next year. Going forward, Delta intends to focus on high-margin premium products and continue increasing the premium seat capacity.
In 2019, Delta is looking to increase the capacity 3%. From 2018 to 2023, Delta expects to increase the average seats per aircraft 2% annually and increase premium seats 40%. The company expects to incur $4.5 billion in capital expenditure and generate a free cash flow of $3 billion–$4 billion in 2019.
Peers' projections
In 2019, analysts' revenue projections for major airlines (JETS) including United Continental (UAL), Southwest Airlines (LUV), and American Airlines (AAL) are $43.8 billion, $23.6 billion, and $46.9 billion, respectively, which reflects year-over-year increase of 6.5%, 7.7%, and 4.9% from the expectations in 2018.