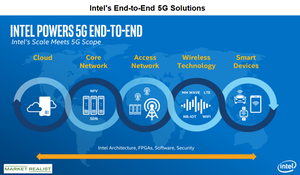 5G to Change the Technology Landscape in 2019 and Beyond
By Puja Tayal

Dec. 31 2018, Updated 12:50 p.m. ET
What is 5G all about?
The biggest trend of 2019 will likely be the advent of 5G (fifth generation) technology, which Qualcomm (QCOM) and Intel (INTC) have been working on for a long time. Unlike 3G and 4G, 5G will expand the mobile ecosystem beyond phones to interconnect and control multiple devices simultaneously. While 5G will deliver faster speed, it will offer ultra-low latency, massive capacity, and a more uniform user experience. These 5G features support the adoption of AI (artificial intelligence) at the edge with the help of IoT (Internet-of-Things) devices like drones, wearables, and security cameras.
Article continues below advertisement
5G will connect IoT devices to the Internet with low latency and provide massive network capacity, allowing for a faster transfer of a huge amount of data between IoT and the cloud. A uniform user experience is expected to ensure consistent high speed data even when users are moving, making AI-enabled mission-critical applications like autonomous cars a reality.
The 5G opportunity
5G technology will support a wide range of industries and create new opportunities in emerging industries like AI (artificial intelligence), networking, and software. According to a study by Qualcomm called The 5G Economy, the economic effect of 5G will be realized worldwide by 2035. 5G-supported industries are expected to generate up to $12 trillion worth of goods and services of which up to $3.5 trillion would be produced directly from the 5G value chain. 5G presents a direct opportunity to device makers, telecom operators, communications companies, and network infrastructure companies.
Semiconductor companies to benefit from the 5G revolution
In the semiconductor industry, Qualcomm and Intel are the biggest beneficiaries of 5G, as they have already developed 5G modems for smartphones, which are set to hit the market in 2019.
The 5G infrastructure requires software-defined network virtualization where everything from computing to storage to data distribution are embedded in the network fabric, which presents opportunities to memory chip makers like Samsung and Micron (MU), network infrastructure providers like Intel and Qualcomm, and FPGA (field programmable gate arrays) suppliers like Xilinx (XLNX). The 5G spectrum will boost the demand for RFFE (radio frequency front end) where Qualcomm and Broadcom (AVGO) have exposure. Investors seeking exposure in the 5G trend could consider Qualcomm, Xilinx, Intel, and Broadcom.
Next, we'll look at the autonomous driving trend.
Check out all the data we have added to our quote pages. Now you can get a valuation snapshot, earnings and revenue estimates, and historical data as well as dividend info. Take a look!