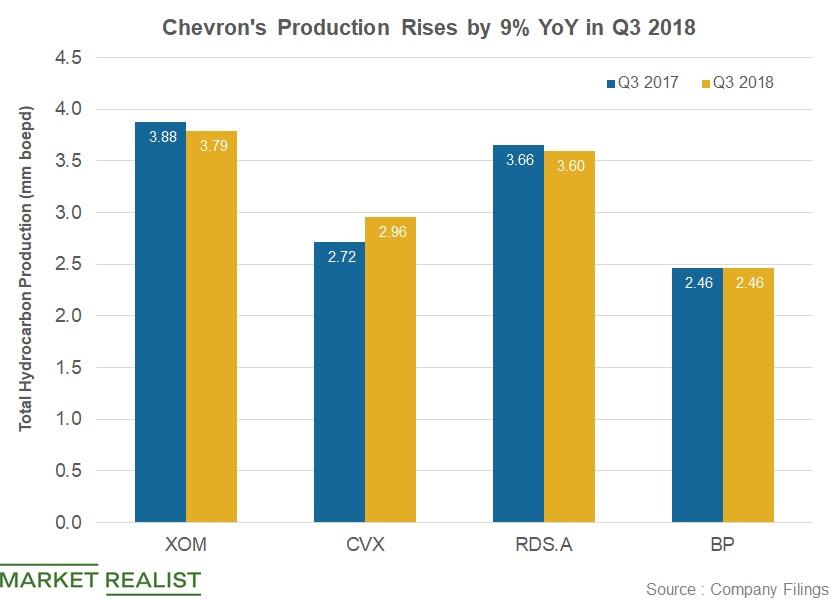 XOM, CVX, Shell, and BP: Comparing Q3 2018 Production Growth
Integrated energy firms' production
In this part of our series, we'll compare the total hydrocarbon output and the production mix for integrated energy companies ExxonMobil (XOM), Chevron (CVX), Royal Dutch Shell (RDS.A), and BP (BP) in Q3 2018.
ExxonMobil produced the most hydrocarbon at 3.79 MM boepd or million barrels of oil equivalent per day. Second in line is Shell at 3.60 MM boepd. Chevron and BP stood at 2.96 MM boepd and 2.46 MM boepd.
While Chevron's production rose year-over-year, ExxonMobil and Shell's output fell. BP's hydrocarbon production stood almost flat.
Chevron's production touched record highs, led by the ramp-up of volumes at Wheatstone and the Permian Basin. Chevron's production rose 8.8% YoY in Q3 2018. The production ramp-up is expected to continue in the fourth quarter as well.
Article continues below advertisement
However, ExxonMobil's hydrocarbon production fell 2.4% year-over-year due to divestments and maintenance activities. In Q3 2018, Shell's total hydrocarbon production fell 1.7%, mainly because of lower output in the integrated gas segment, impacted by maintenance activities. Also, LNG liquefication volumes fell due to divestments.
Production mix of integrated energy companies
ExxonMobil, Chevron, Shell, and BP have substantial natural gas production along with crude oil and liquids production. In Q3 2018, Shell and ExxonMobil's natural gas production stood at 10.4 billion standard cubic feet per day or Bscfpd and 9.0 Bscfpd, respectively. Chevron and BP stood at 7.0 Bscfpd and 7.2 Bscfpd of gas production, respectively, in Q3 2018.
BP's (BP) natural gas production constituted 51% of its total hydrocarbon production in Q3 2018—the most of the group. Shell's gas production represented 50% of its total production. ExxonMobil and Chevron have lower exposure to natural gas. XOM and CVX's natural gas constituted 40% of their total production in Q3 2018.