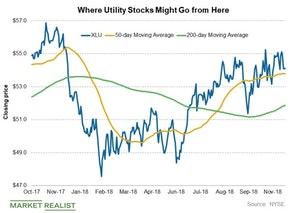 XLU: What Top Utilities' Chart Indicators Suggest
Moving averages
Currently, the Utilities Select Sector SPDR ETF (XLU) is trading at $54.11—marginally above its 50-day and 4% above its 200-day simple moving average, respectively. The premium to both of these support levels highlights the strength in XLU. The levels around $53.77 and $51.87 could act as a support for XLU in short term.
XLU is trading 5.0% lower than its 52-week high of $56.9 in December 2017 and 14.0% higher than its 52-week low of $47.37 in February.
Article continues below advertisement
Relative strength index
Currently, XLU is trading at an RSI (relative strength index) of 42. A stock is considered "oversold" when its RSI falls below 30 and "overbought" when it's above 70. An extreme RSI value suggests an impending reversal in a stock's direction. XLU's current RSI shows that it isn't trading in the oversold or the overbought zone.
Among top utility stocks, PG&E (PCG) stock continues to trade in the oversold zone with its RSI at 28. Currently, the stock is trading 45% below its 50-day and 200-day moving average levels, which indicates immense weakness in the stock.
The big four utility stocks, NextEra Energy (NEE), Duke Energy (DUK), Southern Company (SO), and Dominion Energy (D) are trading well above their respective 50-day and 200-day simple moving average levels, which indicates strength. None of these stocks are trading in the overbought or oversold zones.
So far in 2018, utilities at large have risen ~3%, while broader markets have fallen more than 1%.