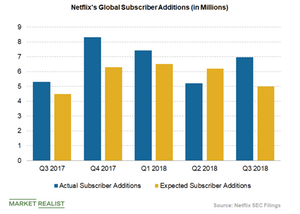 Will Disney's Online Streaming Services Hurt Netflix?
Disney's two streaming services
Amid the rising popularity of online video streaming services and its shrinking traditional subscriber base, the Walt Disney Company (DIS) is trying to market its DTC (direct-to-consumer) offerings to attract consumers. It launched its first DTC streaming service, ESPN+, in April.
Another DTC offering, Disney+, will roll out toward the end of 2019. The service will stream Disney films and TV shows and other content from Disney's extensive library. The company has also shuffled its corporate structure, creating a new unit focused on its upcoming streaming services.
Article continues below advertisement
Impact of Disney's streaming service on Netflix
Disney's launch of its own streaming service in 2019 means that the company will stop streaming its movies on Netflix (NFLX) from 2019 onward, which could hurt Netflix's subscriber base. Further, Disney's streaming costs are more reasonable than Netflix's.
Disney launched ESPN+ at $4.99 per month or $49.99 per year, but it hasn't disclosed the price of Disney+ yet. The company's acquisition of 21st Century Fox (FOXA) has also given it a bigger stake in Hulu, which is priced at $8 per month. Netflix's plans range from $8 to $14 per month.
Though Netflix is the content king, it's facing competition from a large number of companies that are entering the streaming space as consumers switch from traditional cable TV bundles to online streaming.
Amazon (AMZN), Apple, and Alphabet's YouTube have also stepped up the competition, and even Walmart (WMT) has plans to launch a video streaming service. In its recently reported third quarter, Netflix added 7.0 million subscribers, higher than its expectation of 5.0 million.