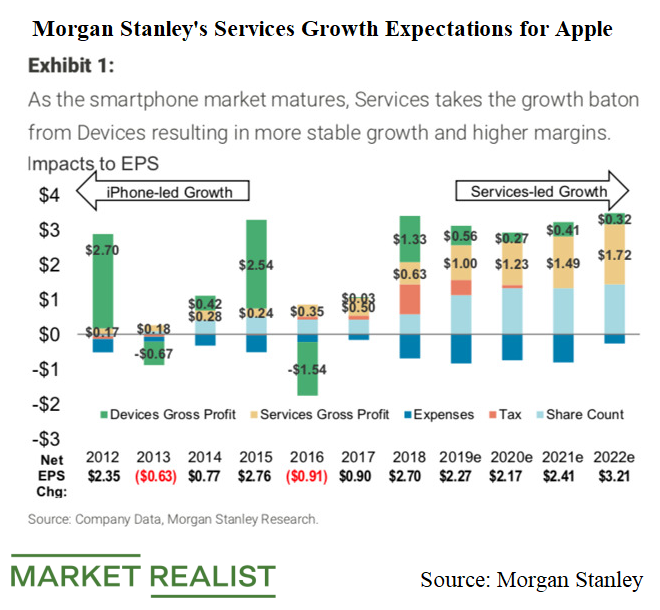 Will Apple's Services Business Reach $100 Billion by 2023?
Morgan Stanley is optimistic about Apple's Services growth
Apple's (AAPL) Services business is critical to the company's long-term growth prospects. The segment is expected to grow at an annual rate of 19% year-over-year in fiscal 2019, which will amount to annual Services revenue of over $44 billion for Apple.
According to Morgan Stanley (MS) analyst Katy Huberty, Apple's revenue growth will be driven by its Services segment. The global smartphone market is saturated in developed markets. Though Apple is outperforming the smartphone market, higher average selling prices will not be able to offset falling device sales forever. This is where Apple's fastest-growing business comes into play.
Article continues below advertisement
Huberty expects sales to rise 20% annually
Huberty is optimistic that Apple's Services business revenue will rise at a compound annual growth rate of 20% over the next five years to reach $101 billion by 2023. Apple's iPhone sales in the United States amounted to $112 billion in 2018.
The Services segment's growth is expected to be driven by higher user engagement by the average iOS user. Morgan Stanley has estimated that 40% of Apple users pay for applications. At a conservative expected growth rate of 50% over the next five years, gross annual spending per user could rise from its current level of $120 per year to $220 per year by 2023.
This expectation is similar to those related to user spending on PCs and console games. User spending on iCloud is also expected to rise significantly, as the user base could expand 30%–50% in the next five years.