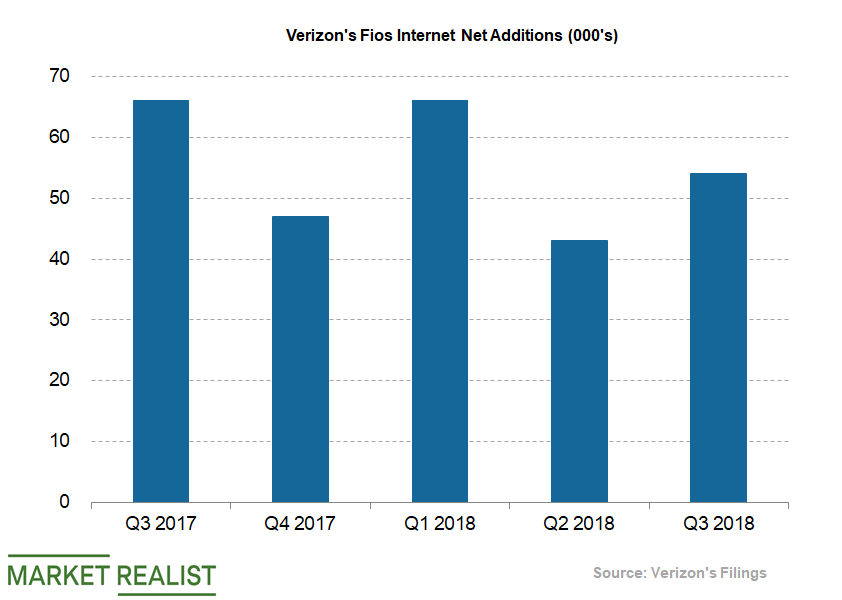 How Verizon Is Gaining Fios Internet Customers
Verizon's Fios Internet net additions
Verizon (VZ) is managing the challenges of the pay-TV market by focusing on its Fios Internet offering in the wireline component. In the third quarter, Verizon added 54,000 Fios Internet customers as compared to 66,000 net additions in the year-ago quarter. However, the net gains in Fios Internet connections were partially offset by 52,000 net declines in high-speed Internet connections. As a result, total net broadband connections for Verizon increased by 2,000 in the third quarter.
Article continues below advertisement
The reduction in high-speed Internet connections was majorly due to competitive pressures from top US cable companies such as Comcast (CMCSA) and Charter Communications (CHTR). Charter added 266,000 residential broadband customers in the third quarter, while Comcast added 334,000 residential broadband customers.
Verizon's Fios Gigabit Connection
Verizon believes that its Fios Gigabit Connection continues to gain traction. The service offers speeds of up to 1 Gbps (gigabits per second). Verizon's Fios Internet customers rose ~3.6% YoY to reach 6.0 million as of September 30.
Verizon continues to be optimistic about the growth trajectory of broadband business, as demand is growing for high-speed Internet connections as people are migrating to television services delivered over the Internet, which includes Amazon's Prime Video, Alphabet's YouTube TV, and Netflix (NFLX). Netflix gained 7.0 million customers worldwide in the third quarter.