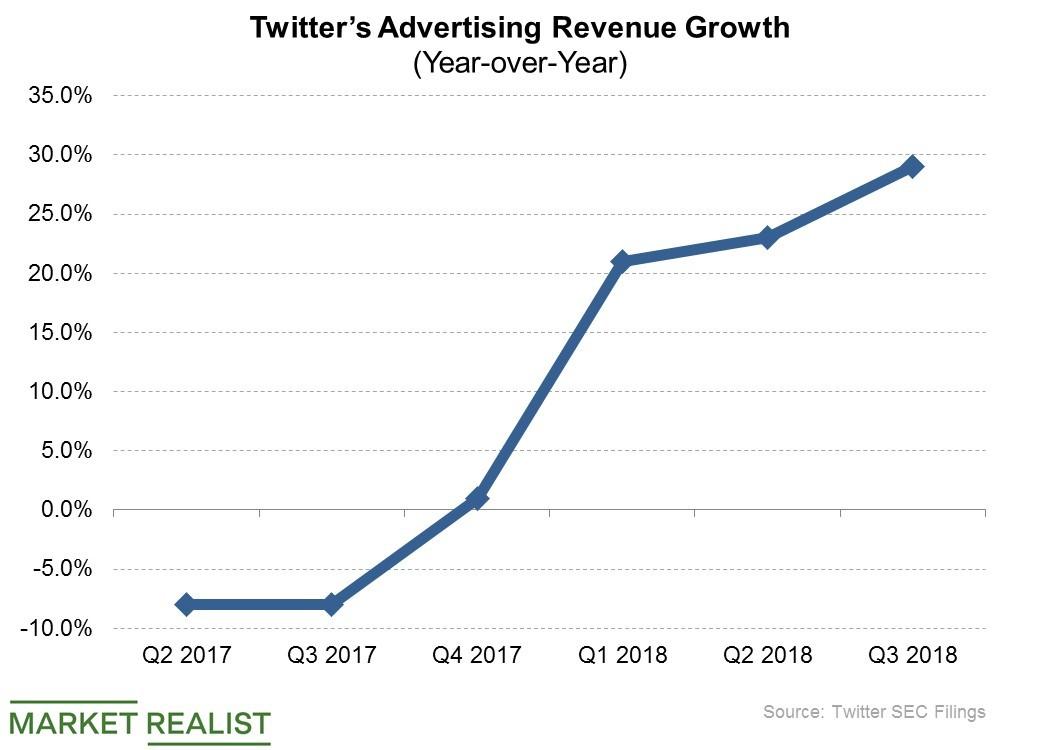 Why Twitter's Ad Sales Are Climbing despite Audience Decline
Ads sales jumped 29%
Despite Twitter (TWTR) losing 9.0 million subscribers in the third quarter, the company's advertising revenue continued to rise during the period. It was the same case in the second quarter when despite losing 1.0 million subscribers, Twitter reported a double-digit increase in advertising revenue during the period.
Twitter's advertising revenue rose 29% year-over-year to $650 million in the third quarter, representing continued recovery in the business after a year of declining sales. Twitter has been removing problematic subscriber accounts as it seeks to builder a higher-quality audience base.
Article continues below advertisement
Twitter is delivering improving ROI
While account removals may be shrinking Twitter's audience base, purging problematic accounts is helping the company deliver better ROI (return on investment) for advertisers, Twitter's global executive Matt Derella said in an interview with Bloomberg. Because of improving ROI, advertisers are willing to spend more with Twitter, explaining why the company's advertising sales have been climbing despite the shrinking audience size.
Twitter has a long way to go to catch up
But Twitter still has a long way to go to catch up with major competitors in the advertising market. While Google (GOOGL) and Facebook (FB) are on pace to capture 37.1% and 20.6% of digital ads outlays in the United States this year, Twitter's share of the market is estimated at just 1.0%, according to eMarketer. Amazon (AMZN) is expected to pick up 4.1% of US digital ads outlays in 2018 compared to 4.0% for Microsoft (MSFT) and around 3.0% for Verizon's (VZ) Oath subsidiary.