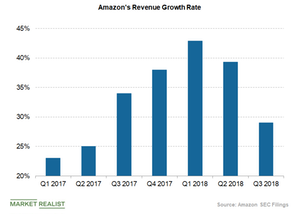 Why Square, Facebook, and Amazon Fell on Monday
Technology sell-off
On Monday, tech stocks were hit hard after Apple cited a slowdown in iPhone production and JD.com (JD) reported disappointing sales guidance. Other factors including the ongoing trade war, political uncertainty, and global worries also weighed on the stocks. Apple's weak iPhone demand led to a fall of ~4.0% in the stock.
Facebook (FB), Amazon (AMZN), Apple, Netflix (NFLX), and Alphabet, fell 5.7%, 5.1%, 4.0%, 5.5%, and 3.9%, respectively. Amazon, Facebook, Netflix, and Alphabet are trading lower on Monday primarily due to market headwinds. Square (SQ) also declined 10.8% on Monday amid the significant sell-off in technology stocks.
Article continues below advertisement
Weakness in Facebook, Amazon, and Square
Facebook has been grappling with data-sharing and privacy issues after the Cambridge Analytica scandal and reports that fake Russian accounts used the platform to affect the 2016 elections.
Amazon reported weak third-quarter 2018 results last month and forecasted soft revenue guidance for the fourth quarter. Amazon's earnings of $5.75 per share beat Wall Street expectations of $3.14 per share in the quarter. However, revenues of $56.6 billion lagged the Wall Street estimates of $57.1 billion. Amazon's revenue growth of 29% YoY was also the slowest since the third quarter of 2017 where the company delivered revenue growth of 34%.
Amazon's fourth-quarter guidance of $66.5 billion–$72.5 billion also failed to impress investors, as it was below Wall Street revenue expectations of ~$73.8 billion, as investors foresee a weaker-than-expected holiday season. Square stock fell nearly 10% amid the major sell-off. Last week, Square announced that its finance chief Sarah Friar would leave the company on November 16, a few weeks earlier than expected. Square had announced in October that Friar would leave the company to join social-networking firm Nextdoor.com as CEO. Friar had earlier decided to stay in her role as CFO until December.