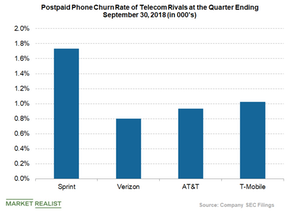 Why Sprint's Churn Rate Is Rising in Comparison to Peers
Sprint's customer retention rate in Q2 2018
Sprint (S) has been trying to lower its churn rate and retain customers in the highly competitive telecom sector. In the second quarter, Sprint added 109,000 postpaid customers but lost 34,000. The postpaid phone customer churn rate rose to 1.73%, higher than the preceding quarter's churn rate of 1.55% and the year-ago quarter's churn rate of 1.59%.
According to Sprint's CEO, Michel Combes, the customer churn rate is expected to remain at high levels for the next several quarters, as many customers with promotional plans might leave after their offers end.
Article continues below advertisement
Competition hurts postpaid phone subscribers
Telecom companies are struggling to retain subscribers in the saturated wireless space. Rising competition in the online video streaming space has pressured telecom companies to maintain customers. Currently, Netflix (NFLX) and Amazon's Prime Video are key players in the video streaming market. The availability of cheaper Internet has also shifted customers from traditional options to streaming services, which has hurt postpaid phone subscriber additions.
Apart from digital rivals, the company is also facing network quality issues in comparison to the top two wireless rivals AT&T (T) and Verizon (VZ). Meanwhile, Sprint is expected to attract more consumers after it gets merger approval for the T-Mobile (TMUS) deal. The merger has been approved by Deutsche Telekom Holdings, which owns 63.5% of T-Mobile stock on Wednesday.
Churn rate of rivals
Verizon, the leading US wireless carrier, reported the lowest postpaid phone churn rate of 0.80% in the third quarter of 2018 among its competitors. The postpaid phone customer retention rate of AT&T, the second largest US wireless carrier, was 0.93% in the third quarter, higher than the preceding quarter's churn of 0.82%. T-Mobile's postpaid phone churn of 1.02% in Q3 improved significantly from the year-ago quarter's churn of 1.23%, but it increased from the preceding quarter's churn rate of 0.95%.