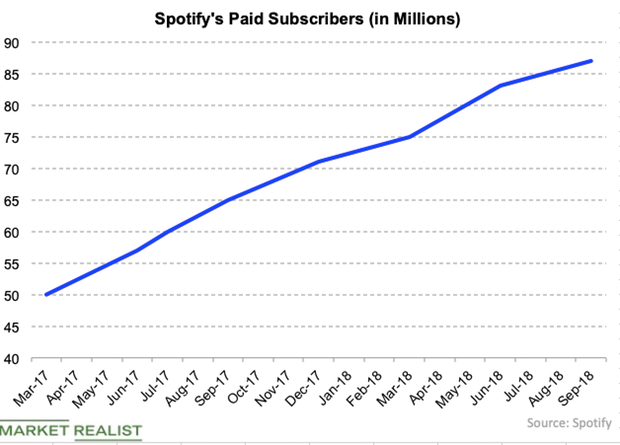 Why Spotify Stock Has Plunged Lately
Spotify's stock has declined by over 30%
Music streaming giant Spotify (SPOT) added 4 million paid subscribers during the third quarter and continues to grow at a fast clip. The company has added 17 million subscribers in the first three quarters of the year. However, despite robust growth, Spotify's valuation has been eroded by almost a third in the last three months.
While Spotify is seeing decent growth, it's losing important markets like the US, Japan, and Canada to its biggest rival, Apple Music. The latter is ramping up its radio and TV offerings.
Article continues below advertisement
Should you buy Spotify now?
Also, Spotify continues to lose a lot of money. The company posted an operating loss of $49 million and $105 million, in Q1 and Q2, respectively. While it made $49 million in profit in Q3, that was due to a one-time investment swap in Tencent (TCEHY) Music. The company warned investors of lower average revenue per user and weaker monthly active user growth going forward.
That said, some of the decline in the stock is due to the recent decline in the tech sector. Also, the correction has created some value in Spotify, which still has a lot of scope to grow in the developing markets.