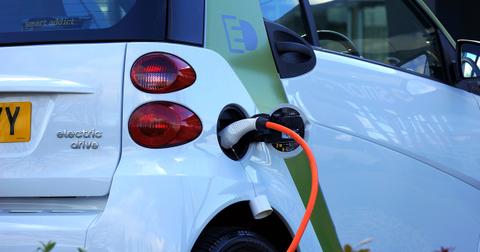 Why NIO Stock Is Up 10% Today despite the S&P 500's 1.5% Fall
By Jitendra Parashar

Updated
NIO stock
On November 19 at 12:42 PM EST, the stock of Chinese electric car maker NIO (NIO) was up 10.0% from its previous day's close. In contrast, the broader market was trading on a negative note today. The S&P 500 Index is down 1.5%, and the NASDAQ Composite Index is down 2.6%.
Other auto stocks (XLY) General Motors (GM), Ford Motor Company (F), and Tesla (Tesla) are up 0.1%, 2.0%, and 1.6%, respectively.
Article continues below advertisement
What could be driving NIO stock today?
Today's stellar gains are in continuation of the 6.2% rise seen in NIO in the week that ended on November 16. Since its third-quarter earnings release on November 6, the stock has seen a solid 24.0% jump as of 12:42 PM EST today.
NIO is expected to launch its much-awaited five-seater SUV (sport utility vehicle) ES6 electric car model by the end of December. As the company inches closer to its launch event, investors may be rushing to get NIO stock in their portfolios. Investors' high expectations for NIO's upcoming release could be based on the company's claim that it's capable of producing both ES8 and ES6 cars simultaneously in high volumes.
Big price difference
NIO's seven-seater SUV ES8 is nearly half the price of Tesla's SUV Model X. According to a CNBC report, NIO ES8's base price is 448,000 Chinese yuan, or $67,765. In December 2017, Tesla's Model X base price in China was at 836,000 yuan, or $126,470. However, TSLA had to increase its vehicle price in July due to the negative impact of higher tariffs. According to Tesla's Chinese website, its Model X 75D all-wheel-drive variant base price starts at 908,700 yuan, or $130,899, as of November 19.
Clearly, the huge price difference between Tesla's and NIO's cars gives NIO a competitive edge, which could be another reason for investors' optimism about NIO's upcoming ES6 car launch event, and this could be driving its stock higher lately.
Read Digging Deeper into NIO's Q3 2018 Earnings Report to learn more.