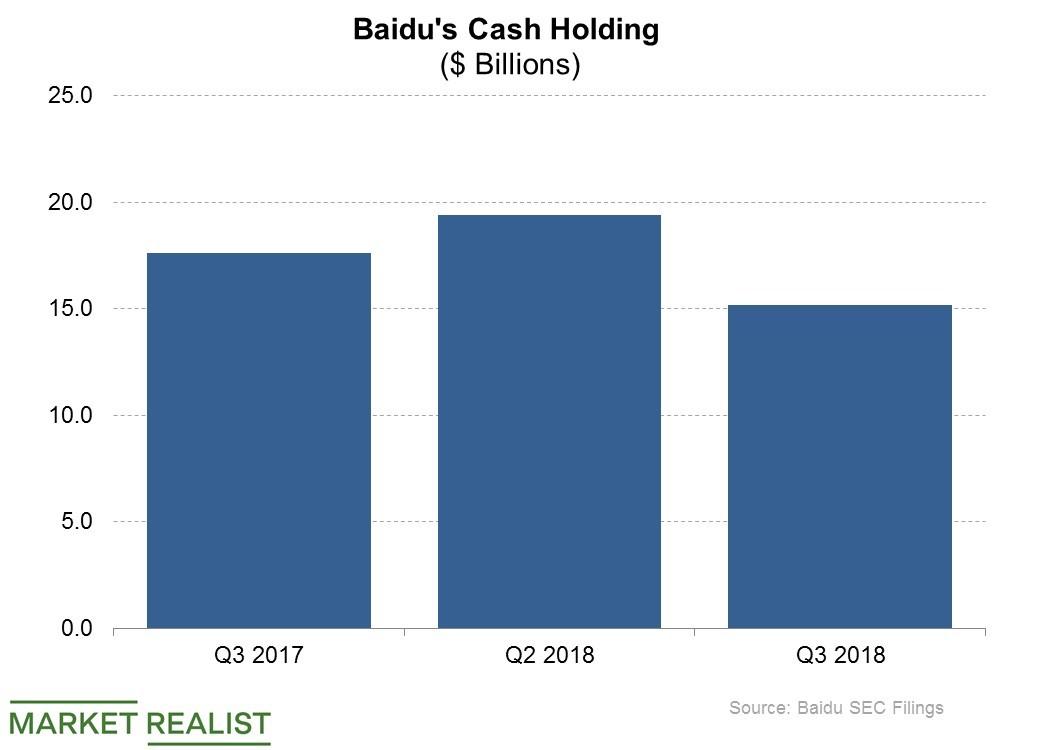 Why Is Baidu Borrowing $1.0 Billion?
Company debt at $1.2 billion
Baidu (BIDU) announced earlier this month that it was seeking to raise ~$1.0 billion through the sale of notes. It priced the notes in two lots based on maturity period and applicable interest rate. The first lot was notes worth $600 million due in 2024, and the second lot was notes worth $400 million due in 2028.
Baidu said it was expecting to receive ~$990 million in net proceeds from the note offerings after accounting for commissions and expenses. It said it intended to use the net proceeds from the offering to repay its outstanding debt, with the rest funding corporate purposes. The company's debt stood at ~$1.2 billion at the end of the third quarter.
Article continues below advertisement
Over $15 billion in cash
Baidu's cash holdings stood at $15.2 billion at the end of the third quarter. This amount included Baidu's claim to online video company iQiyi (IQ), in which it holds a large equity stake and over 93% voting power.
In June, Baidu announced a plan to repurchase up to $1.0 billion of its shares by around 2019. About $513 million was remaining on the program as of the end of the third quarter after the company disclosed that it had repurchased $487 million worth of its shares since the program was announced.
Share repurchase programs
Other Internet companies that have lined up substantial share repurchase programs include Facebook (FB), Alphabet (GOOGL), Alibaba (BABA), and eBay (EBAY). In April, Facebook boosted its repurchase program by $9.0 billion, and in February, Alphabet announced an $8.6 billion repurchase program.
Alibaba is planning to repurchase up to $6.0 billion of its own shares over the next two years. eBay exited the third quarter with $4.7 billion remaining under its existing repurchase program.