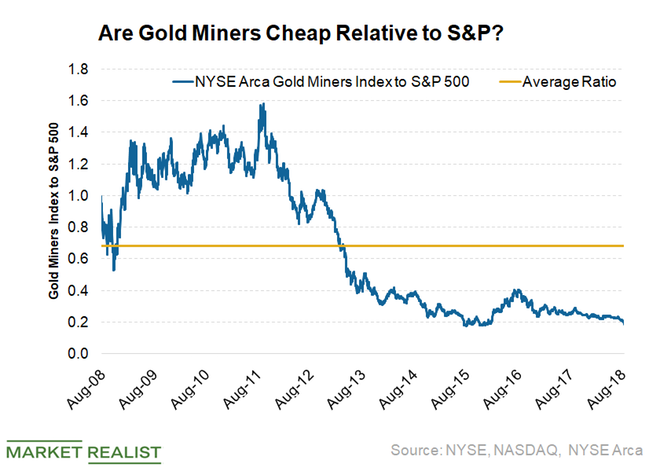 Why Goldman Sachs Is Still Optimistic about Gold
Goldman Sachs's bullish stance on gold
In March this year, Goldman Sachs (GS) turned bullish on gold for the first time in the last five years. The GS team cited an uptick in inflation and the increased risk of stock market correction as the major reasons for gold's (GLD) projected rally. That rally, however, didn't materialize for the precious metal. In fact, in April, the metal started on an almost unidirectional downtrend until September. Following the market's October sell-off, however, the metal has once again started looking up. It saw 2% gains in October after six months of consecutive losses.
Article continues below advertisement
Upside to gold forecasts
As reported by Bloomberg, Goldman Sachs's (GS) analysts wrote, "While we think that the U.S. cycle still has room to run it doesn't mean that markets will not worry about it coming to an end." The analysts added, "Going forward, we expect market 'fear' of a U.S. recession to strengthen. Recession worries and gold investment may increase further after U.S. growth begins to slow down."
GS is forecasting gold (IAU) prices of $1,250, $1,300, and $1,350 per ounce in the next three, six, and 12 months, respectively. The bank's analysts, however, see upside risks to these forecasts once US (VTI) growth begins to slow down.
"Fear trade" to propel gold further
The most recent spark in precious metal prices can be aptly described as "fear trade." As we discussed in Gold, Miners Have Surged on the Market Rout, investors grew wary of the higher interest rate scenario and the upcoming earnings decelerations for the US stock markets (SPY) (QQQ). This sentiment led to a sell-off in equities, and investors again started looking towards gold as the uncertainty hedge. As more weakness manifests in the economic numbers for the US, the move towards gold and gold stocks could (GDX) (NUGT) become even more pronounced.
In the next part of this series, we'll see what other Wall Street analysts have to say about the gold price outlook.