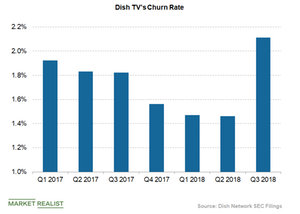 Why Dish Network's Churn Rate Increased in Q3 2018
Dish maintains a lower churn
Dish Network (DISH) has been improving its DISH TV churn rate in each quarter for more than five consecutive quarters. The company has been making efforts to acquire higher-quality subscribers amid increased pressure from online streaming competitors. The company has also been giving priority to customer requirements and has launched new innovative products to attract higher-quality customers.
However, the churn rate for DISH TV increased to 2.11% in the third quarter, up from 1.46% in the second quarter and 1.82% in the previous year's quarter. DISH TV's churn increased in the quarter following several quarters of consistently low churn rates. The increase may have been due to the company's customer losses as a result of the Univision blackout issue.
Article continues below advertisement
Higher churn rate in the third quarter
Dish's higher churn rate in the third quarter was the result of the removal of channels by Univision from DISH TV and Sling TV. Univision's dismissal of certain channels is expected to continue to negatively impact DISH TV's churn rate in the short term.
DISH TV's higher churn rate led to higher DISH TV subscriber losses and higher net pay-TV subscriber losses in the third quarter. Like Dish Network, traditional pay-TV companies Comcast (CMCSA) and Charter Communications (CHTR) also lost residential video customers in the third quarter. Charter and Comcast lost ~66,000 and 95,000 residential video customers in the quarter, respectively. AT&T (T) lost 359,000 satellite TV customers and added 13,000 U-verse TV customers in the same period.