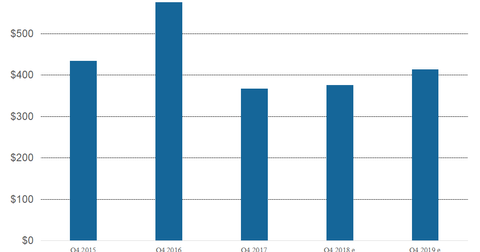 Why Did GoPro Stock Fall 24% on November 2?
By Adam Rogers

Updated
GPRO fell driven by poor revenue guidance
In the previous article, we saw that GoPro (GPRO) easily beat its own revenue forecast as well as analysts' average earnings estimate in the third quarter. Still, the stock fell more than 24% to close at $5.44 on November 2.
GoPro shares are trading 41% below its 52-week high of $9.22. According to GoPro, there's an industry trend of increasing retail promotions in the holiday season, or the fourth quarter, of every year. GoPro is likely to initiate more promotions in the fourth quarter, a move that will negatively affect its revenue and sales.
Article continues below advertisement
Though GoPro beat sales forecasts in the third quarter, the company lowered its revenue guidance to between $360 million and $380 million for the fourth quarter—down from its earlier estimate of between $380 million and $400 million. These lower expected sales for GoPro in the fourth quarter left analysts unimpressed.
Are lower-priced devices driving sales?
Earlier this year, GoPro introduced a slew of devices across a range of price points to drive incremental sales. However, we have seen that its device sales fell year-over-year in the last quarter coupled with a fall in its average selling price. Does this mean lower-priced devices aren't selling as expected?
GoPro expects camera unit sell-through of 5 million units in 2018, which could see the company exiting the year with low inventory levels, resulting in cost savings. GoPro also expects to post a non-GAAP (generally accepted accounting principles) profit in the fourth quarter.
There was some optimism regarding GoPro shares when the stock rose close to 20% in the last week of October. Investors expected the company to beat estimates in the third quarter and raise forecasts for the fourth. However, the latter expectation failed to materialize, wiping out a quarter of GoPro's market cap.