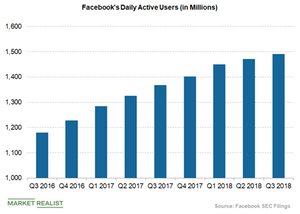 Why Did Facebook Cut Ties with Definers Research Company?
Facebook targets George Soros
On November 21, Facebook (FB) reportedly admitted that Elliot Schrage, its head of communications and policy, had hired a research company called Definers Public Affairs to investigate billionaire investor George Soros over his criticism of the social network.
Schrage had also asked Definers Public Affairs to find out whether Soros was involved in the Freedom from Facebook campaign. Schrage announced in June that he would leave the company amid the Cambridge Analytica scandal.
Article continues below advertisement
The spreading of fake news
According to a memo, philanthropist Soros called Facebook out in a speech in January, saying that the company was a menace to society. Schrage hired Definers to find out whether there was any financial motive behind such criticism. When the Freedom from Facebook campaign surfaced, Facebook's team again asked Definers to investigate whether Soros was funding the campaign's coalition members.
However, a New York Times report on November 14 revealed that Definers had distributed misinformation that Soros was the biggest donor to liberal causes, had been funding the anti-Facebook campaign, and was even supporting anti-Semitic theories. As a result, Facebook discontinued its relationship with Definers due to its spreading of fake news.
Facebook's troubles have dented its user base
The social media giant has been making efforts to boost its revenue and number of global active users amid data-privacy concerns and issues related to fake accounts and the spreading of misinformation across its platforms.
In its third-quarter earnings results, which it reported on October 30, Facebook missed analysts' consensus expectation for MAUs (monthly active users) and DAUs (daily active users). At the end of the third quarter, Facebook had reached nearly 2.27 billion MAUs, missing analysts' expectation of 2.29 billion. The company's 1.49 billion DAUs also lagged Wall Street's estimate of 1.51 billion.
In comparison, Twitter (TWTR) reported its biggest sequential fall in MAUs to 326 million in the quarter, down from 335 million in the second quarter but up YoY (year-over-year) from 330 million in the third quarter of 2017.
Snap's (SNAP) Snapchat also posted sluggish growth at 186 million DAUs, which fell from 188 million DAUs in the second quarter but was up 5% YoY from 178 million.