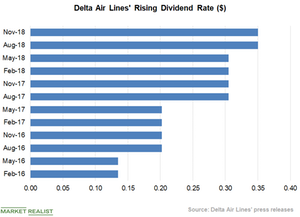 Why Delta Air Lines Has the Highest Dividend Yield of Its Peers
Highest dividend yield among peers
Since 2013, Delta Air Lines (DAL) has been actively returning cash to shareholders through dividend payments and share repurchases. The airline's dividend has been among the fastest-growing in the industry. Its fourth-quarter-2018 dividend rose ~15% from a year ago. From 2013 through 2017, DAL's dividend grew at a CAGR (compound annual growth rate) of over 50%. In 2018, if DAL maintains the same dividend rate, it would pay a dividend of $1.22 per share.
Delta Air Lines has one of the highest dividend yields at 2.5%. Its close peers American Airlines (AAL), Southwest Airlines (LUV), and Alaska Air Group (ALK) have dividend yields of 1.1%, 1.2%, and 1.9%, respectively.
The company's dividend payout ratio of 24.4% is the second-highest among its peers. Alaska Air Group has the highest payout ratio at 30.6% while Southwest Airlines and American Airlines hold the third and the fourth spots with ratios of 14.4% and 8.6%, respectively.
Article continues below advertisement
Share repurchases
Delta Air Lines also enhances shareholders' wealth through its aggressive share repurchase program. Share repurchases are a more tax-efficient way to enhance shareholders' returns than paying dividends. Since share repurchases lead to a decline in outstanding shares, they boost a company's earnings per share.
The company initiated its first share repurchase program of $500 million in 2013. It had planned to complete the buybacks before June 2016. The company bought back $250 million worth of common stocks in 2013, $1.1 billion in 2014, $2.2 billion in 2015, $2.6 billion in 2016, and $1.7 billion in 2017. Plus, Delta Air Lines has repurchased stocks worth $1.3 billion in the first three quarters of 2018.
The last three years have been prosperous for airlines around the world—and especially for US airlines (JETS) due to the strengthening dollar against all major currencies. Plus, the space is also enjoying the benefit of lower fuel prices over the last few years, which improved profitability and free cash flow. Most airline operators have used this opportunity to strengthen their balance sheets and enhance shareholders' returns through share repurchases and dividend payments.