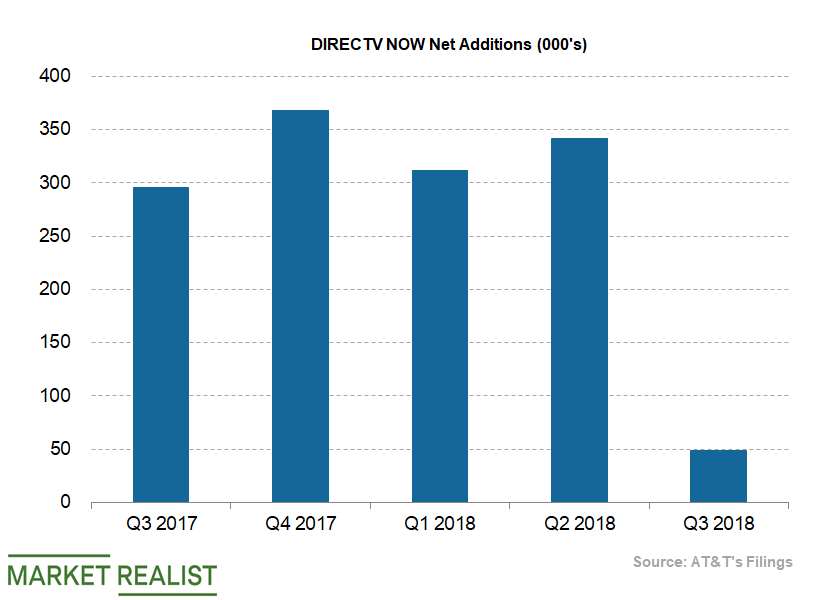 Why AT&T's DIRECTV NOW Customer Net Additions Slowed Down
AT&T's DIRECTV NOW
AT&T's (T) DIRECTV NOW is a video streaming service that delivers content directly to consumers over the Internet as a substitute for traditional satellite or cable connections. In the third quarter, the telecom company added 49,000 customers to its DIRECTV NOW video streaming service, down from 296,000 DIRECTV NOW net customer additions in the third quarter of 2017. However, analysts had expected 287,000 net customers for its DIRECTV NOW service.
According to the Forbes report, "AT&T has indicated that part of this decline was actually deliberate, as the company has been looking to reduce its exposure to low-value, high-churn customers, who often sign up for the service for just a few months to watch some particular seasonal content."
DIRECTV NOW has 1.9 million customers at the end of the third quarter and continues to expect robust growth from improved services as well as bundling opportunities.
Article continues below advertisement
Peer comparison
Amazon's Prime Video, Hulu, and Netflix (NFLX) are AT&T's other competitors in the video streaming market. In the third quarter, Netflix added 7.0 million subscribers worldwide. Netflix had 137.1 million total subscribers by the end of the third quarter.
As the OTT service continues to rapidly add customers, traditional pay-TV players are losing customers. AT&T lost 346,000 total traditional US pay-TV subscribers in the third quarter. Meanwhile, Charter Communications (CHTR) and Comcast (CMCSA) lost 66,000 and 95,000 residential video customers, respectively.