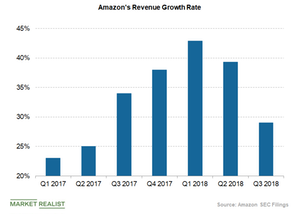 Why Amazon Is Forecasting Soft Revenues in the Fourth Quarter
Amazon's Q3 revenues
Amazon (AMZN) disappointed investors on October 25 when it reported weak third-quarter 2018 results and soft revenue guidance for the fourth quarter. While Amazon exceeded third-quarter earnings estimates, its revenues missed Wall Street expectations. The online retail giant also predicts weakness in its fourth-quarter revenues.
Amazon's Q3 earnings of $5.75 per share topped analysts' expectations of $3.14 per share, but revenues of $56.6 billion lagged the Wall Street estimates of $57.1 billion.
Article continues below advertisement
Weak revenues
Amazon's revenue growth has been decelerating for the past few quarters. Amazon posted revenue growth of 29% YoY in the third quarter, which represented its slowest YoY revenue growth since the third quarter of 2017, where the company delivered revenue growth of 34%.
Amazon's cloud business, Amazon Web Services (or AWS), also showed weakness in the current quarter. AWS revenues of $6.68 billion came in behind the Wall Street estimates of $6.71 billion amid increased competition from Microsoft's (MSFT) Azure and Alphabet's (GOOGL) Google Cloud, but AWS continued to deliver strong YoY growth of 46%. Amazon has been generating revenues from its cloud and advertising business.
Sluggish outlook for the fourth quarter
The company slashed its revenue guidance for the fourth quarter, as jittery investors are anticipating a weaker-than-expected holiday season. Amazon plans to report revenue of $66.5 billion–$72.5 billion in the quarter as compared to Wall Street revenue expectations of ~$73.8 billion. The company has also predicted soft numbers for fourth-quarter operating income, as Amazon expects operating income of $2.1 billion to $3.6 billion for the fourth quarter, which is below analysts' expectations of $3.9 billion.