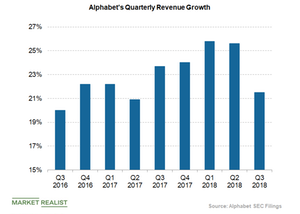 Why Alphabet's Q3 Revenue Growth Rate Was Sluggish
Alphabet's Q3 results
Alphabet (GOOGL), whose primary business is Google, didn't meet revenue expectations in the third quarter of 2018, but significantly exceeded analysts' expectations for earnings. The company reported Q3 results on October 25. While earnings of $13.06 per share topped Wall Street estimates of $10.42, Alphabet's revenue of $33.7 billion lagged the consensus estimate of $34.04 billion. Though Alphabet's revenue increased 21% YoY in the third quarter, the growth rate was sluggish.
Article continues below advertisement
According to some analysts, Google's decelerating hardware sales growth led to weakness in revenue growth in the reported quarter. Sluggish hardware sales led to the weakness in the quarter. The October launches of the new Pixel 3 and Google Home Hub are expected to boost the company's fourth-quarter earnings.
Google's ad business is losing market share to Amazon
Alphabet, through its unit Google, drives most of its revenues from its advertising business. Like Google, rivals Twitter (TWTR), Snap (SNAP), Yelp, and Facebook (FB) also earn the majority of their revenues through advertising sales. In Q3 2018, Facebook's ad sales increased 33% YoY, faster than Google's ad sales growth of ~20.3% YoY and Twitter's ad sales growth of ~29%.
However, online retail giant Amazon (AMZN) is becoming more of a threat to Google, as Amazon is increasingly focusing on its digital advertising business and has become the third-largest digital advertiser in the US after Google and Facebook. Additionally, a lot of people are using Amazon's platform for product searches instead of Google amid growing scrutiny from regulators, which is further denting Google's dominance.
Also, regulators in the US and the European Union are scrutinizing social media and Internet companies like Google, Facebook, and Twitter in regards to data-sharing policies.