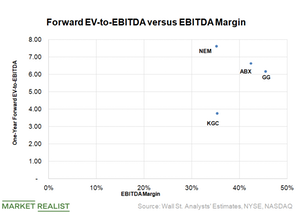 Which Senior Gold Miner Could See a Valuation Rerating in 2018?
Newmont Mining
Among senior gold miners (GDX), Newmont Mining (NEM) has the highest forward EV-to-EBITDA (enterprise value-to-EBITDA) multiple of 7.6x. It's trading at a premium of 26% to the peer average. At a time when growth is difficult to come by in the gold mining space, Newmont Mining has a strong project pipeline with very low execution risk. Also, most of its assets are in geographically attractive mining jurisdictions.
Newmont Mining's unit costs are higher than its peers' unit costs. The company expects costs to improve in 2019 and onward as low-cost supply comes online, which could set the stock's multiple up for the next round of rerating.
Article continues below advertisement
Barrick's rerating potential
Barrick Gold (ABX) is trading at an EV-to-EBITDA multiple of 6.6x, which represents a premium of 2% to its historical multiple. Its multiple has rerated since the announcement of its merger with Randgold Resources (GOLD) to form an industry-leading gold company (GDX) with the greatest concentration of tier-one gold (GLD) assets.
As we discussed in Is the Barrick-Randgold Merger Enough of a Reason to Bet on ABX? Barrick's costs will fall, and its production profile will improve on low-cost, high-quality assets after the merger. Its new position will also add to its geopolitical risk. Moreover, there are other problems at hand for Barrick, including its ongoing talks with the Tanzanian government regarding the long-running tax dispute between the government and Barrick's subsidiary, Acacia Mining. For further upside, the company will need to show more execution on its projects and resolve its disputes successfully.
Goldcorp's valuation multiple
Goldcorp's (GG) current multiple of 6.2x represents the maximum discount of 30% to its historical multiple among its senior peers. Its valuation multiple has contracted 24% since the start of the year, mainly due to disappointing results quarter after quarter. Its third-quarter earnings miss saw a huge negative stock price reaction. Goldcorp also missed analysts' expectations for its second-quarter and first-quarter earnings results.
While investors liked its 20/20/20 growth plan, now they're more focused on the company executing on its short-term guidance. In addition to its production guidance, it's vital for the company to either come in at or lower than its all-in sustaining cost guidance for the fourth quarter to restore investors' confidence in its management's execution of these plans.
Kinross Gold (KGC) has the lowest forward multiple of 3.7x, which implies a discount of 38.0% to the peer average multiple. Although its discount started to fall as it addressed production growth concerns, geopolitical concerns have weighed down the stock and its multiple in 2018. Moreover, if the recent Tasiast Expansion Phase Two issue isn't resolved as soon as possible, the company could see further downside.
Read Analysts' Views: Is It Time to Look at Gold Miners for more on analysts' recommendations and rating changes on these gold miners.