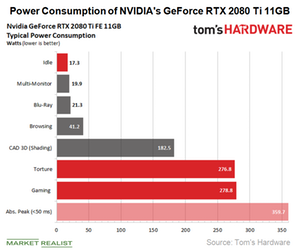 What's Causing Problems in NVIDIA's RTX 2080 Ti GPU?
NVIDIA's RTX 2080 Ti problems are in the limelight
NVIDIA's (NVDA) GeForce forums and Reddit are filled with people reporting problems with their new GeForce RTX 2080 Ti GPUs (graphics processing unit), especially the Founders Edition. The increasing number of reports of problematic GPUs by early adopters is causing concern among the target audience of these cards.
So what's causing the issue?
Article continues below advertisement
Manufacturing batch
Consumers can buy the Founders Edition from either NVIDIA or the secondhand market. Retailers only sell third-party GPUs from Asus, Gigabyte, and other NVIDIA partners. If the problem were only in the Founders Edition, it could have been concluded that the issue was with the manufacturing of a particular batch by NVIDIA, which would limit the scope of the issue.
However, Digital Trends noted that problems had been reported in both the Founders Edition and some third-party versions of the RTX 2080 Ti cards, signaling that the issue is in the Turing architecture, in a particular component, or in the manufacturing of the GPUs at each company.
Micron's GDDR6
According to a hypothesis by Tom's Hardware Germany, the problem could be with Micron's (MU) 11 GB (gigabyte) GDDR6 (graphics double data rate) memory, which is integrated into the RTX 2080 Ti. Tests by Tom's Hardware showed that Micron's GDDR6 can run at a maximum safe operating temperature of 95°C in a stressful environment. Some users reported that the RTX 2080 Ti's performance problem was solved when the GDDR6 memory was underclocked. This evidence supports Tom's hypothesis.
Cooling solutions
Other analysis stated that the performance problem was more prevalent in the third-party GPUs that used cheaper cooling solutions. Some users reported that the GPU worked properly after a cooling-off period. These are just guesses, though—the actual cause isn't yet known.
Initial problems are common with new product launches. The real question is about the severity of the problem. Next, we'll see whether investors should be alarmed about NVIDIA's RTX 2080 Ti issues.