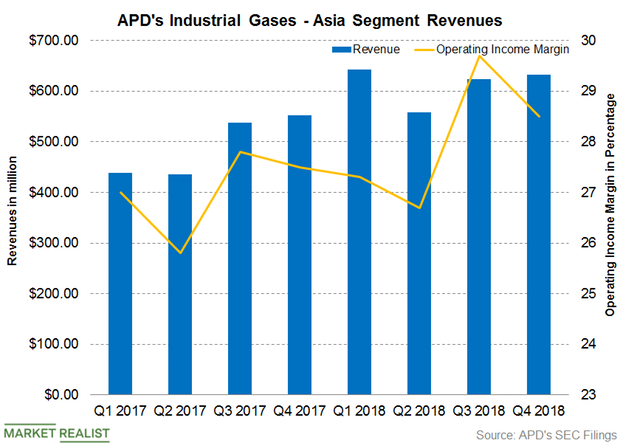 What Drove APD's Industrial Gases–Asia Segment's Revenues?
Industrial Gases–Asia segment
Air Products and Chemicals' (APD) Industrial Gases–Asia segment accounted for 27.5% of the company's total revenues in the fourth quarter. The segment expanded by 2.4 percentage points YoY (year-over-year) from 25.1% in the fourth quarter of 2017. The segment reported revenues of $633 million in the fourth quarter compared to $552.2 million in the fourth quarter of 2017—14.6% growth YoY.
The segment continued its volume growth through new project executions. During the quarter, the segment's volume grew 14% due to the Lu'An project. Favorable pricing helped the segment's revenues increase 3%, while the unfavorable currency had a negative impact of 2%.
Article continues below advertisement
Operating income and margin
In the fourth quarter, the Industrial Gases–Asia segment's operating income rose 18.2% YoY to $180.2 million from $152.4 million.
Higher volume growth and higher pricing boosted the segment's operating income and margin. The segment's operating margin expanded by 90 basis points YoY to 28.5% from 27.6% in the fourth quarter of 2017.
Outlook
The segment is expected to continue to grow due to the execution of backlogs specifically in Korea. The backlogs are expected to be completed in the first quarter of 2019. The higher volumes driven by Lu'An are expected to increase the revenues. Higher price realizations will only add up to the revenue growth. With the higher volume and price, the segment's operating income and margin could also increase.
Investors can get indirect exposure to Air Products and Chemicals through the Invesco WilderHill Clean Energy ETF (PBW), which invests 2.8% of its portfolio in the company. The fund's other holdings include First Solar (FSLR), Albemarle (ALB), and Quanta Services (PWR) with weights of 4.9%, 3.8%, and 3.2%, respectively, on November 8.