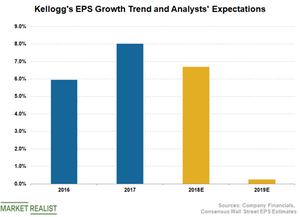 What Could Hurt Kellogg's EPS Growth Rate?
Lower taxes have supported bottom-line growth so far
Kellogg (K) has impressed with its bottom-line performance, as the company managed to improve its EPS despite the pressure on earnings from weak underlying sales and cost headwinds. Kellogg's adjusted EPS grew at a double-digit rate in the first two quarters of 2018 thanks to the decline in the tax rate following US tax reforms.
However, margin headwinds and an unfavorable mix weighed on its earnings growth rate during the third quarter. Kellogg's third-quarter EPS did improve on a YoY (year-over-year) basis. However, the rate of growth marked a steep slowdown on a sequential basis. Also, increased interest expenses related to the debt taken to fund the recent acquisitions further remained a drag.
Food manufacturers acquired in-demand brands to accelerate the top-line growth rate. However, the increase in interest expenses owing to the debt taken to finance these acquisitions is adversely impacting the bottom-line growth rate of these companies.
Article continues below advertisement
Outlook
Kellogg's bottom line is projected to mark YoY improvement in 2018 led by the lower effective tax rate. However, the growth rate is likely to take a hit from soft organic sales and increased packaging and transportation costs. Also, an unfavorable mix and higher interest expenses are expected to remain a drag.
Management lowered its full-year EPS growth outlook. Kellogg's bottom line is projected to see 7%–8% growth on a constant-currency basis in 2018, down from its earlier growth guidance of 11%–13%. Wall Street analysts expect Kellogg's EPS to see 6.7% growth in 2018. However, the EPS growth rate is projected to decelerate significantly in 2019.