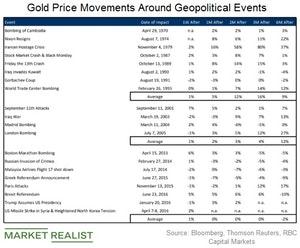 What Could Help Gold Get Its Shine Back?
By VanEck

Nov. 30 2018, Published 10:18 a.m. ET
VanEck
MORRIS: Interesting. When you think about it. I am a fan of charts and this is some base we've built. Can you think right now if some of the current geopolitical events in the world, and something that in your mind might trigger a resumption of a new bull market for gold out of this space, and off this space?
FOSTER: I think what we're seeing is, I call it, an economic death by 1,000 cuts. All these things that are making headlines, whether it's a currency crisis in Turkey, or the trade wars, or looking back to the North Korean situation, these create risks, but they're more local in nature. But I think eventually, we're seeing these risks increase in frequency, and starting to build.
Article continues below advertisement
And I think it's going to reach, maybe, sort of a critical mass, where investors start saying all these risks all over the world are going to amount to something bigger and more global and more systemic. And I think that's what … When we might see the gold market turn, as investors start to hedge themselves against these accumulating risks all over the world.
MORRIS: Interesting. When I think of gold, I think of sort of two potential events. One would be a strong inflationary environment that can generate interest in gold, but also, as you said, hedge against financial risk. Do you think there is a chance that inflation, after really what has been a historic monetary policy stance globally for the last five, well, eight years really, do you think there is a possibility of inflation being triggered? Or do you think it's more likely to be this financial contagion that leads to the move?
FOSTER: I think the risk of inflation now is higher than it has been in many years, because of the tight labor markets, the trade situation that we're seeing. We are seeing some price pressures. The trend of inflation over the last 12 months has definitely been on the upside. But in the longer term, the other thing you have to consider here is the Fed [U.S. Federal Reserve] is raising rates now. The Fed is tightening. So, they're withdrawing the liquidity that drove the expansion and that drove the booming stock market that we've had over the last 10 years. So, I think because of that Fed tightening, it sort of counterbalances the inflationary pressure.
So, I think, sure, there's risk of inflation. There is also risk of financial stress, and the risk that this expansion could come to an end as the Fed raise rates, as it has every time, just about every time, the Fed has raised rates in the past. So, there are two competing factors there.
MORRIS: So, if I'm hearing you correctly, it sounds like you think really a financial calamity of some sort is more likely than inflation building.

FOSTER: I do.
MORRIS: Interesting.
FOSTER: Again, coming to the end of this economic cycle, there's many indicators that suggest that we're closer to the end. In baseball terms, we're in the eighth or ninth inning of this cycle. Yes.
MORRIS: And of course, as a lot of financial press has noticed, really the accumulated debt has just gone to a new level in this cycle.
FOSTER: Yes.
MORRIS: We somehow doubled down on the idea of running expansions with debt, really.
FOSTER: If the cycle does come to an end, that's the biggest risk. I think in the next downturn, we're not going to be talking about subprime mortgages; we're going to be talking about sovereign debt, corporate debt…
MORRIS: Yes.
FOSTER: …junk bonds, things of that nature that have reached historic proportions in this cycle.
MORRIS: Relative to growth?
FOSTER: Right, yes.
Article continues below advertisement
Market Realist
What geopolitical events could drive gold's performance?
During market distress, when other asset classes suffer, gold is often the only asset class that flourishes. It has a low-to-negative correlation with other asset classes and thus remains unaffected in a volatile market. Thus, gold is often considered a safe-haven asset.
However, last year an article by Kitco News mentioned that RBC Capital Markets examined gold price movements following major geopolitical events from 1970 to 2017 and concluded that geopolitical events don't have the same effect on gold prices (GLD) (GDX) (GDXJ) as they used to. The chart below shows this trend.
Empirical evidence has shown that geopolitical events have had an effect on gold prices like the financial crisis of 2008, the Eurozone crisis of 2012, and Brexit in 2016. However, there are various other factors that affect gold prices besides geopolitical uncertainty. These other factors, which we'll discuss in more detail, explain gold's recent downfall.