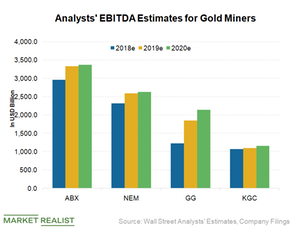 What Are Analysts' Estimates for Gold Miners' Future Earnings?
Analysts' earnings expectations
Now that we've considered analysts' revenue estimates for the senior gold miners under review (GDX) in this series, let's take a look at analysts' EBITDA estimates.
Along with the expected fall in Barrick Gold's (ABX) 2018 revenue, analysts expect a fall in its EBITDA. The expected fall in its EBITDA, however, is much larger. ABX's EBITDA is expected to fall 26.4% YoY (year-over-year) to $2.96 billion, most likely due to higher estimates for its costs, in line with the actual cost increases recorded by the company.
Newmont Mining's (NEM) EBITDA is expected to fall 12.8% YoY to $2.3 billion in 2018. As we learned in the previous article, Newmont expects to see a fall in production and a YoY rise in costs in 2018, driving its EBITDA to fall more quickly than its revenue.
Article continues below advertisement
Kinross Gold and Goldcorp
In contrast to other miners, the expected fall in Kinross Gold's (KGC) EBITDA in 2018 is much lower. Analysts expect KGC's EBITDA to fall 0.9% to $1.07 billion in 2018. However, this is after downgrades by analysts following its weaker-than-expected performance year-to-date. It's expected to report a margin of 33.3% in 2018 compared to 32.8% in 2017.
For Goldcorp (GG), analysts expect a fall of 16% YoY. Analysts' estimates took a hit after Goldcorp lowered its production guidance and increased its cost guidance in its third-quarter results. If the company is able to deliver on its guidance for next year, then according to analysts' expectations, it could see a 50% rise in EBITDA in 2019.