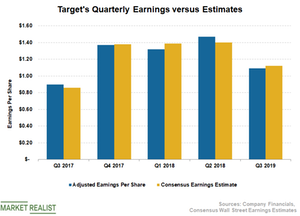 What Affected Target's Q3 Earnings Growth Rate?
EPS missed estimate
Target (TGT) reported a worse-than-expected bottom line for the third quarter of fiscal 2018. Target's adjusted earnings of $1.09 per share jumped more than 20% on a YoY basis but fell short of analysts' estimate of $1.12.
Target's bottom line gained from improved comps and a reduction in interest expenses. Moreover, a considerable decline in the effective tax rate cushioned the company's bottom line. Target's third quarter effective tax rate was 13.6% compared with 22.2% during the last year.
However, increase digital fulfillment costs driven by higher-than-expected digital sales growth and continued investments in pricing, wages, and stores remained a drag.
Article continues below advertisement
In comparison, Walmart (WMT) reported stronger-than-expected earnings during the third quarter. However, the company's EPS growth rate was lower than that of Target. Walmart's third-quarter adjusted earnings exceeded Wall Street's expectation and rose 8% YoY. Meanwhile, Costco's (COST) EPS was in line with analysts' expectations during the last reported quarter and increased 13.5% YoY.
Outlook
Target's management reaffirmed its full-year EPS guidance and expects its adjusted earnings to be in the range of $5.30–$5.50. Also, Target expects to drive profitable growth in fiscal 2019. However, higher digital fulfillment costs and investment in growth initiatives are expected to continue to hurt the company.