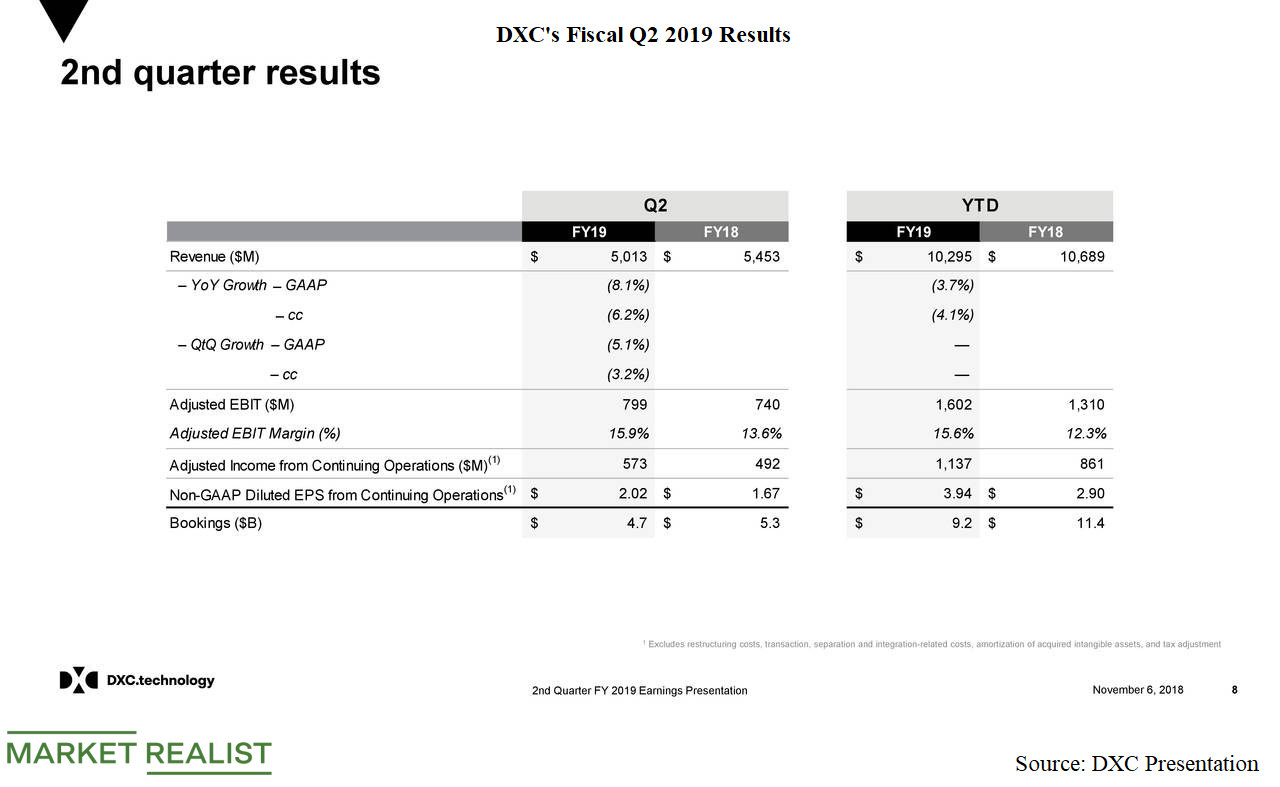 What Affected DXC Technology Yesterday?
Stock fell 12.5% on November 7
DXC Tech (DXC) fell 12.5% on November 7 to close at $63.21. The stock is currently trading 35% below its 52-week high of $96.75. DXC stock has fallen 31% since the start of October 2018 and is down 27% in 2018.
DXC recently announced its results for the second quarter of fiscal 2019. The company reported revenue of $5.01 billion, a fall of 8.1% YoY compared to revenue of $5.45 billion in the second quarter of 2018. The reported revenue was $200 million below analyst estimates. DXC's EPS of $2.02 were 4.1% above estimates of $1.94 in the second quarter.
Article continues below advertisement
DXC layoffs to continue
DXC has been hit by multiple layoffs in 2018. The company has laid off 30,000 employees. Several executives have also resigned. During the company's earnings call, company CEO Mike Lawrie confirmed that DXC is looking to shift 10% of its employee workforce to offshore locations.
While DXC had forecasted cost savings of $400 million in 2018, it has already lowered costs by $570 million driven by these layoffs, and the company is well ahead of its target. Cost reductions have offset a decline in revenue for DXC.
DXC is estimated to return to revenue growth in fiscal 2021. Its EPS is estimated to rise at a CAGR (compound annual growth rate) of 6.5% over the next five years. DXC now has a market cap of $17.8 billion. Out of the 19 analysts tracking DXC, 12 recommended a "buy," seven recommended a "hold," and none recommended a "sell." The average 12-month target price for DXC is $92.47, indicating an upside potential of 46% from the current price.