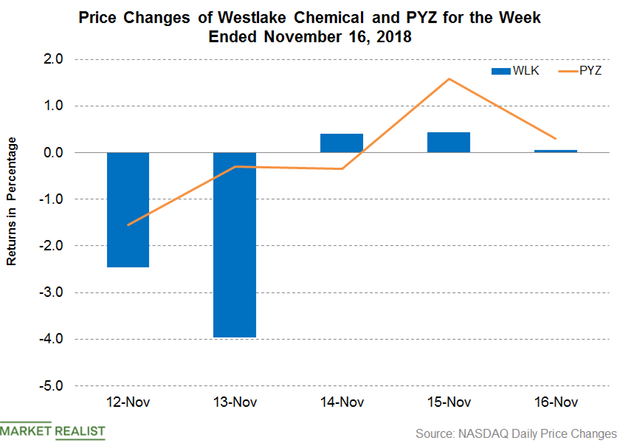 Westlake Chemical Announced Its Fourth-Quarter Dividend
Westlake announced its fourth-quarter dividend
On November 16, Westlake Chemical (WLK) announced the key dates for its fourth-quarter dividend. Investors are required to hold Westlake Chemical shares as of the close on November 27 in the company's record book. The dividend is expected to be paid on December 11. Westlake Chemical didn't change its dividend rate over the previous quarter and declared a dividend of $0.25 per share for the fourth quarter.
At the end of the third quarter, Westlake Chemical had ~130.05 million outstanding shares. Assuming that no buyback takes place, Westlake Chemical will be paying ~$32.5 million as the dividend.
Article continues below advertisement
Stock price update
Westlake Chemical stock declined 5.5% in a volatile week and closed at $71.74 as of November 16. Westlake Chemical traded 20.4% below its 100-day moving average price of $90.16, which indicates the prevailing downward trend in the stock. Westlake Chemical's 100-day moving average has fallen from a peak of $112.40.
On a year-to-date basis, Westlake Chemical has declined 34.25%, while Eastman Chemical (EMN), Celanese (CE), and LyondellBasell (LYB) have declined 10.2%, 4.3%, and 13.5%, respectively. Westlake Chemical's 14-day relative strength index of 38 indicates that the stock isn't overbought or oversold.
Investors could hold Westlake Chemical indirectly by investing in the PowerShares DWA Basic Materials Momentum Portfolio ETF (PYZ). PYZ invests 1.6% of its portfolio in Westlake Chemical.