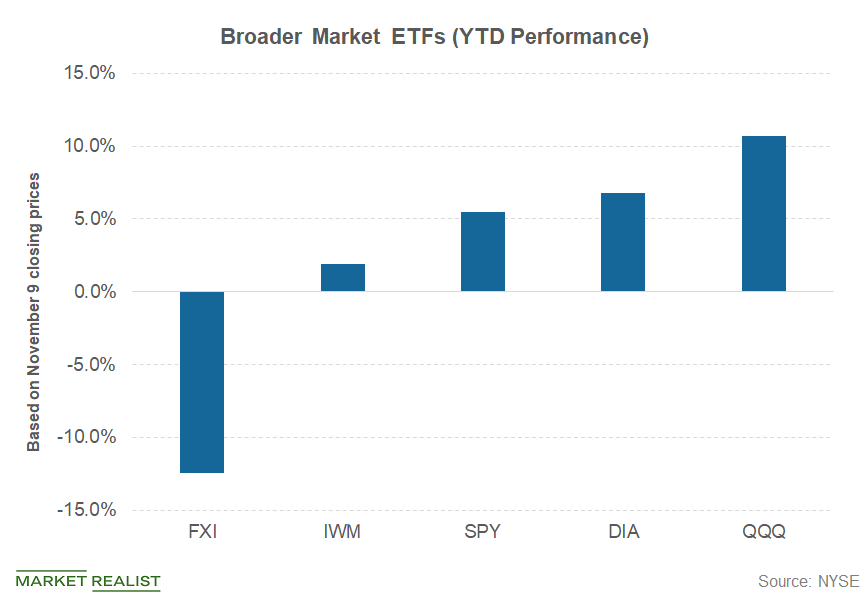 US and China: Analyzing the Trade War's Impact
President Trump
The US-China trade war, which President Trump termed as a "skirmish" last month, has taken a toll on China's economy. According to Bloomberg, last week, President Trump said, "We're in a very big dispute with them right now, and we're winning." According to the report, President Trump said, "China wants to make a deal, but if they don't that's fine as well."
Previously, President Trump cited falling Chinese equity markets and strong US equity markets (SPY) to drive home his point. China's equity markets have underperformed in 2018. US markets are still looking reasonably strong amid the overhang of the tax cut, which boosted US companies' earnings.
Article continues below advertisement
Trade policies
In democratic countries like the US, the leadership faces scrutiny from the public and from the media. Notably, the Republicans lost their House majority in the mid-term elections. There's support and dissent regarding President Trump's economic policies. Several US industry groups including companies like Apple (AAPL), Amazon (AMZN), Alphabet (GOOG), and Walmart (WMT) have openly come out against the tariffs.
In contrast, China's government doesn't face the kind of public scrutiny or frequent elections. Strong economic growth has helped China contain any social unrest. If the trade war starts to bite the Chinese economy, the Chinese government might feel some backlash. Meanwhile, all eyes would be on this month's G20 meeting. President Trump and Chinese President Xi Jinping might have a formal meeting.
Please read US-China Spat Is about Much More than a Trade Deficit for a detailed analysis of contentious issues between the world's two largest economies.