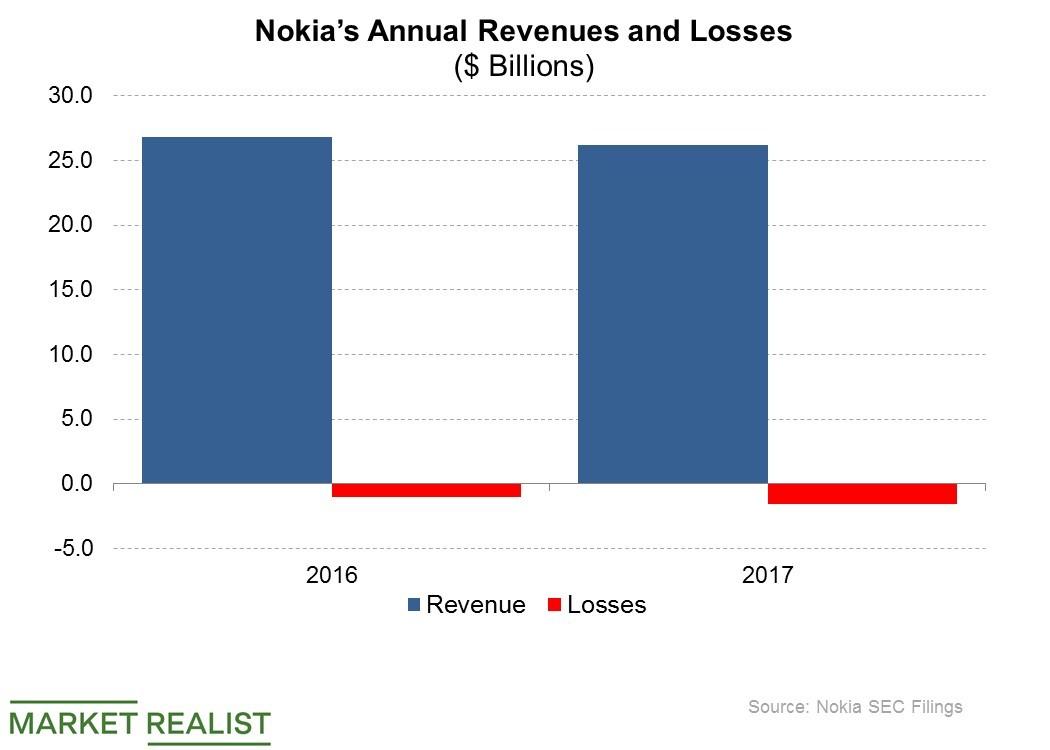 To Understand NOK's Belt-Tightening, Look to Alcatel-Lucent Deal
Nokia in optimization phase
Last month, Nokia (NOK) detailed a new cost-savings plan under which it's seeking to cut its annual expenses by ~$800 million by 2020—that's on top of the $1.4 billion cost-cutting plan it announced in 2016, which it said it aimed to achieve by the end of 2018.
Nokia's belt-tightening measures are tied to its 2016 acquisition of Alcatel-Lucent. In an interview with CNBC earlier this month, Nokia CEO Rajeev Suri said that the integration of Alcatel-Lucent was designed to unfold in phases and that the company was currently in the second phase of that process.
In the first phase, Nokia focused on eliminating duplications. In the second phase, the company is focused on optimizing the combined company. As part of the optimization phase, Nokia is planning to cut thousands of jobs globally to enable it to achieve its cost-savings goal.
Article continues below advertisement
$1.6 billion loss in 2017
Shrinking sales due to 4G (fourth-generation) equipment demand peaking and high operating costs have resulted in Nokia posting losses in the last two years. The company's loss in 2017 grew to $1.6 billion from $1.0 billion in 2016. Nokia expects its bottom line to start improving as demand for 5G (fifth-generation) equipment kicks in and it keeps a tight lid on its costs. Ericsson (ERIC) suffered a $3.9 billion loss in 2017.
$7.0 billion worth of major 5G contracts
In July, Nokia has inked major 5G-related contracts worth more than $7.0 billion. These include a $3.5 billion multiyear contract with T-Mobile (TMUS), the American operator seeking to start launching its 5G networks next year. T-Mobile is seeking to merge with its small rival Sprint (S) and has pledged up to $40 billion in network investments if the deal succeeds. Earlier, Nokia picked up a $1.2 billion contract with China Mobile (CHL), and it recently announced a $2.3 billion contract with a trio of Chinese operators, including China Mobile and China Unicom (CHU).