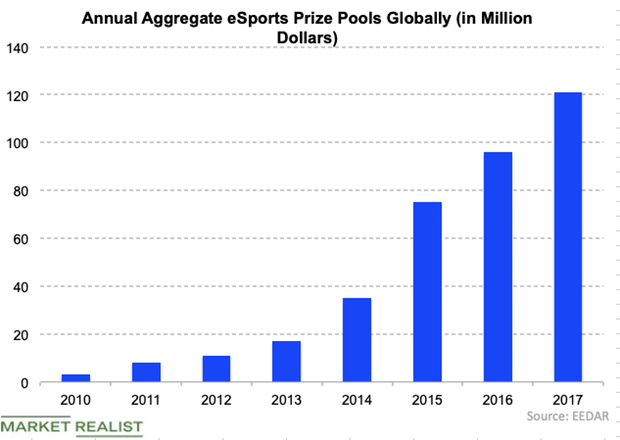 The Rapid Rise of Video Gaming and eSports
By VanEck

Nov. 20 2020, Updated 1:06 p.m. ET
Article continues below advertisement
The Rapid Rise of Video Gaming and Esports
But what exactly is esports, and what does its growth portend for the video game industry overall? Collectively, the term "esports" refers to professional competitive gaming. Players can participate in contests for prize money (Kuro Takhasomi, the world's highest-earning player, has earned $4.1 million4in his professional career so far) and, increasingly, audiences are attending live events and tuning in to live streams to follow their favorite gamers and teams.
Although some of the first video game tournaments took place in the 1980s and 1990s, many consider the dawn of modern esports to be the 1997 Red Annihilation tournament for the first person shooter (FPS) "Quake," where over 2,000 participants competed for a Ferrari previously owned by the lead developer. Major League Gaming (MLG), launched in 2002, was the first professional esports organization to broadcast on American television, with a Halo II tournament in 2006. Today, MLG is the largest and most successful gaming league in the world. A 2013 MLG tournament awarded gamers more than $170,000 in prizes.
Gamers, whether as individuals or teams, often play against other gamers in arenas where spectators pay to watch them play. Popular games like Activision Blizzard's (ATVI) Overwatch receive overwhelming interest. The Overwatch League finals earlier this year saw around 11,000 people flocking to the Barclays Center in Brooklyn, New York. They didn't mind paying $200 for tickets.
Experts think pro gamers could soon earn more than pro athletes! One of the most popular gamers at the moment is "Ninja," who makes around half a million dollars a month through corporate sponsorships and donations on his website.
As the graph above shows, eSports prize pools has been soaring over the last few years. According to Electronic Entertainment Design and Research, the annual aggregate esports prize pool worldwide reached $121 million last year.