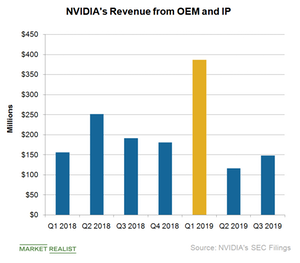 The Impact of the Cryptocurrency Trend on NVIDIA's Earnings
What happened in the cryptocurrency market?
Article continues below advertisement
The fourth quarter of 2017
In the fourth quarter of 2017, the crypto boom started as the prices of digital currencies such as Bitcoin and Ethereum spiked more than 300%. Miners need to solve complex math problems to mine this digital currency, and to mine, they need high computing power. This stoked demand for GPUs (graphics processing unit), which helped miners mine currency at relatively low costs.
The first quarter of 2018
The large profits in cryptocurrency encouraged more people to mine currency and boosted demand from mining farms. This saw NVIDIA's revenue from OEMs (original equipment manufacturer) and IP (intellectual property) rise 115% sequentially to $387 million in the first quarter of fiscal 2019, which ended in April.
The spike in demand created a supply shortage and increased GPU prices, discouraging gamers from buying GPUs. Due to the supply shortage, miners also bought gaming GPUs, because of which NVIDIA's gaming revenue also included GPU sales to crypto miners.
To balance demand and supply, NVIDIA and AMD increased their GPU supplies in the first quarter of 2018—and that's when crypto prices started to fall.
The second quarter of 2018
As crypto prices fell, it was no longer profitable for miners to spend large sums on GPUs. Hence, GPU demand started to fall in March. NVIDIA's OEM and IP revenue fell 70% sequentially to $116 million, and its GPU inventory rose 36% to over $1 billion in the second quarter of fiscal 2019, which ended in July. The falling demand and rising supply caused inflated GPU rises to fall to normal levels.
On NVIDIA's fiscal 2019 second-quarter earnings call, CEO Jensen Huang stated that falling GPU prices would revive pent-up demand from gamers, and they would absorb the excess inventory. However, NVIDIA's third-quarter results told a different story. We'll look into this next.