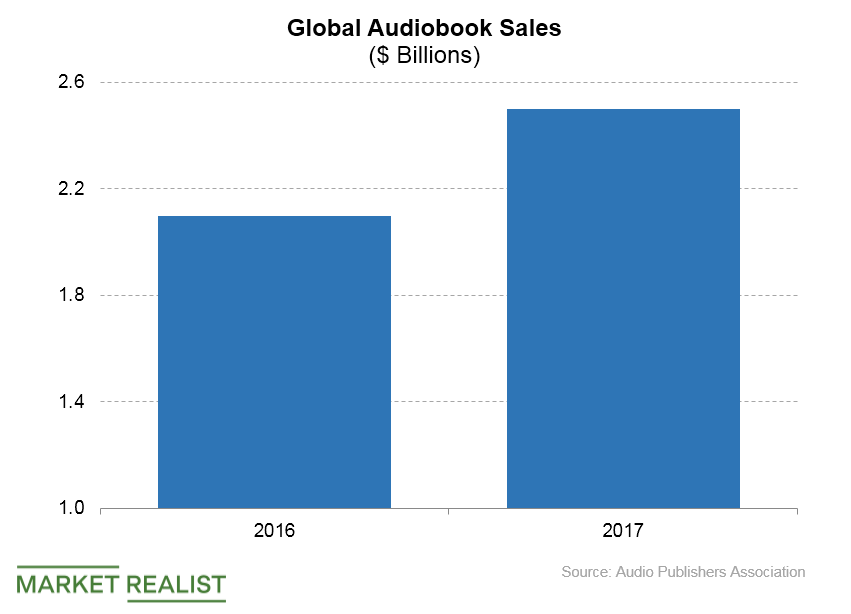 The Chase for Audiobook Dollars Takes Amazon to India
Audible launches in India
The uptake of audiobooks is on the rise. According to a report by the Audio Publishers Association, audiobook sales generated $2.5 billion worth of revenue in 2017, a rise from $2.1 billion in 2016, showing that the market expanded 22.7% last year. Amazon (AMZN) is broadening its pursuit of the commercial opportunity created by the growing demand for audiobooks.
The company has recently introduced its Audible service in India, one of the world's fastest-growing markets for digital products and services. Amazon's Audible service provides access to audiobooks.
Article continues below advertisement
Audible plans start at 199 rupees in India
Audible is available on a subscription basis. In the United States, plans start at $15 per month. In India, people can sign up for an Audible subscription for 199 Indian rupees per month. Amazon also offers six-month and 12-month Audible subscription plan options for customers in India.
International retail revenue increased 13%
The introduction of Audible in India enlarges Amazon's addressable market in the country and could help grow the company's international revenue. India contributes to Amazon's International segment, where revenue jumped 13% year-over-year to $15.5 billion in the third quarter. The International segment accounted for 31.1% of Amazon's total retail revenue in the quarter.
In comparison, 8.9% of Alibaba's (BABA) commerce revenue was international, and at Facebook (FB) and Alphabet (GOOGL), international operations accounted for more than 50% of total revenue in the third quarter. Twitter's (TWTR) international operations contributed 44.2% to its total revenue in the third quarter.