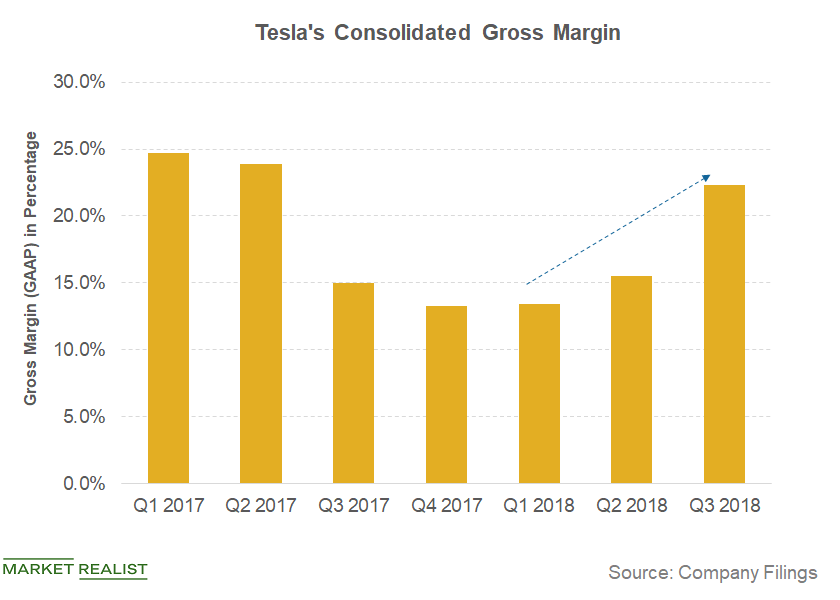 Tesla: Buying Trucking Companies Could Help It Remain Profitable
Tesla in China
In the previous part of this series, we discussed Tesla's (TSLA) move to cut its vehicle prices in China. We discussed how the price cut could help the company boost its sales in the world's largest auto market (XLY). However, Tesla might have a hard time competing with China's domestic automakers. Chinese automakers have advantages due to lower manufacturing costs and government incentives. Local automakers in China won't have to worry about steep tariffs and the US-China trade war. Tesla is trying to speed up its Shanghai-based Gigafactory construction to avoid paying steep tariffs in China.
Article continues below advertisement
Tesla bought trucking companies
On November 15, Tesla's CEO Elon Musk said in series of tweets that "Tesla just acquired trucking capacity to ensure Model 3 can be delivered in the US by Dec 31 if ordered by Nov 30."
In order to avoid a delay in vehicle deliveries, Musk mentioned that the company has "bought some trucking companies & secured contracts with major haulers." He tried to justify Tesla's move to choose trucks for deliveries instead of rail services by saying that "Skipping rail saves over a month for East Coast deliveries. All things considered, it's better to use trucks. Single load/unload & direct to owner location."
Could Tesla remain profitable?
In September, Musk tweeted, while replying to a Tesla car buyer, that the company has "gone from production hell to delivery logistics hell." While Tesla managed to ramp up its vehicle production exponentially in the last few quarters, it continues to face a delay in vehicle deliveries due to delivery logistics. If Tesla manages to reduce its vehicle delivery time with the help of recently acquired trucking companies, it could boost Tesla's vehicle deliveries and revenues in the coming quarters. Consistent growth in Tesla's revenues is critical for it to protect its profitability.
On November 23, Tesla had a market cap of $56.0 billion—much higher than Ford's (F) $36.3 billion, General Motors' (GM) $50.7 billion, and NIO's (NIO) $7.7 billion.
Next, we'll discuss why UBS revised its target price on Tesla stock.