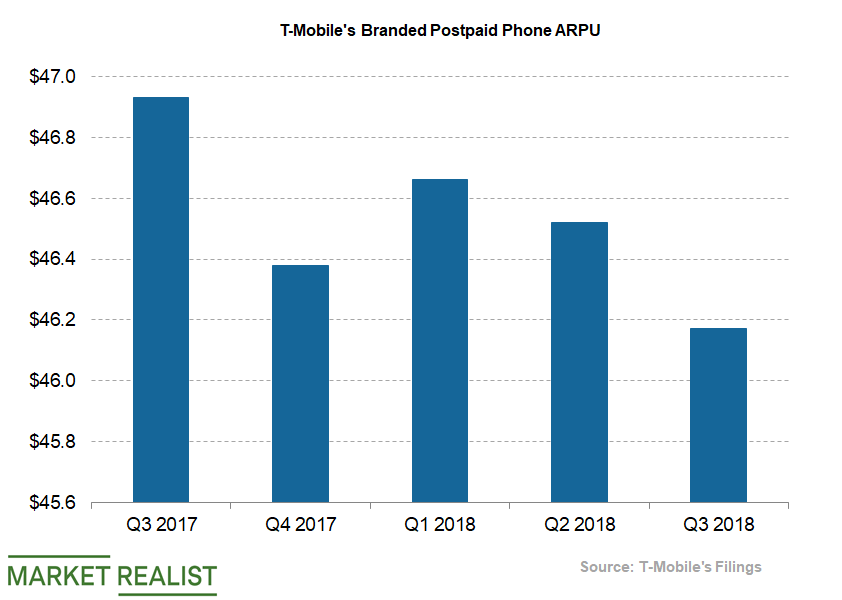 T-Mobile Expects Stable Postpaid Phone ARPU Growth in 2018
T-Mobile's postpaid phone ARPU
T-Mobile (TMUS) continues to expect that its postpaid phone ARPU (average revenue per user) in 2018 will be generally stable compared to its 2017 postpaid phone ARPU, excluding the impact of the new revenue recognition accounting standard.
In the third quarter, T-Mobile's branded postpaid phone ARPU fell ~1.6% YoY (year-over-year) to $46.17. This YoY reduction in postpaid phone ARPU was primarily the result of the increased adoption of all-inclusive plans, including the growing success of new customer segments such as T-Mobile ONE Military, T-Mobile ONE Unlimited 55+, and T-Mobile for Business. The YoY postpaid phone ARPU reduction was also due to a fall in some nonrecurring charges, including a noncash net benefit from Data Stash. However, this YoY postpaid phone ARPU reduction was partially offset by a net decrease in service promotional activities.
Article continues below advertisement
T-Mobile's ABPU
T-Mobile's postpaid ABPU (average billing per user) was $57.69 in the third quarter compared to $59.89 in the previous year's quarter. This YoY reduction in postpaid ABPU was mainly due to reduced branded postpaid phone ARPU.
Postpaid ABPU includes installment payments made by customers as well as service revenues. These installment billings are labeled as equipment revenues.
Installment billings and service revenues are stable revenue sources for mobile operators such as Sprint (S), T-Mobile, Verizon (VZ), and AT&T (T). T-Mobile's JUMP! installment plan is similar to Verizon's Device Payment Plan and AT&T's Next plan.
T-Mobile exited the third quarter with 77.2 million wireless subscribers. Verizon, AT&T, and Sprint closed the quarter with 154.0 million, 150.3 million, and 53.5 million wireless subscribers, respectively.