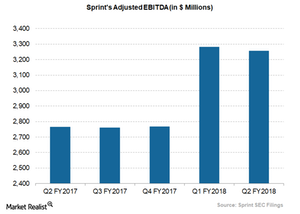 Sprint Boosted Adjusted EBITDA with Cost Savings
Sprint's cost-cutting efforts
Sprint (S) has been making serious efforts to cut its costs to revive its profits in the wireless space and has eliminated more than $1 billion in costs in each of the past four years. Sprint has already saved approximately $6.0 billion in costs over the last four years. For the fiscal year, the company predicts gross cost savings of more than $1 billion for the fifth straight year. The company expects net cost reductions of less than $500 million as the company plans to reinvest in the Next-Gen Network, digital capabilities, and other initiatives.
During the second quarter of fiscal 2018, Sprint realized nearly $100 million in net cost reductions including lowering cost of services and selling, general, and administrative expenses.
Article continues below advertisement
Cost savings led to higher EBITDA growth
Sprint's cost reduction measures have significantly improved the company's net income. Sprint delivered net income of $207 million in the quarter, after incurring a loss of $48 million in the year-ago quarter. The company also reported adjusted operating income of $778 million, up 29.5% YoY. Sprint generated net income for the fourth consecutive quarter and reported operating income for the 11th consecutive quarter.
The company also posted adjusted EBITDA of $3 billion in the second quarter, up $300 million YoY, marking the highest fiscal second-quarter EBITDA in the last 12 years. Owing to cost savings efforts and strong year-to-date growth trends, Sprint has raised its adjusted EBITDA guidance to a range of $11.7 billion to $12.0 billion, above the previous expectations of $11.3 billion to $11.8 billion excluding the impact of the revenue recognition standard.
T-Mobile and Sprint merger
Sprint is awaiting merger approval with rival T-Mobile (TMUS) and expects the combined entity's adjusted EBITDA to lie in the range of $22.0 billion–$23.0 billion in fiscal 2018. The merger is also likely to intensify competition with the dominant players, Verizon (VZ) and AT&T (T), in the telecom industry, as well as grow its scale and generate cost synergies.