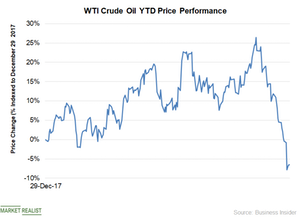 Slumping Oil Prices Boost American Airlines' Stock Price
Heightened oil prices hurt profitability
Oil prices rose continuously from the beginning of 2018 through early October. Because oil expenses make up a significant cost component of airlines, increasing oil prices hurt airlines' profitabilities as well as their share prices.
Article continues below advertisement
In the third quarter, American Airlines' fuel cost increased 37.8% to $2.28 per gallon from $1.66 in the previous year's quarter. In absolute terms, its fuel expenses rose to $2.2 billion from $1.6 billion in the third quarter of the previous year, representing a YoY (year-over-year) jump of 42.3%. In the YTD (year-to-date) period, fuel costs rose 33.5% YoY to $2.20 per gallon. In absolute terms, fuel expenses surged 36.1% to $6.1 billion from $4.5 billion in the previous year's quarter.
Higher fuel expenses along with increased employee salaries negatively impacted American Airlines' third-quarter non-GAAP (generally accepted accounting principles) pretax income. The company's non-GAAP pretax income fell 41% YoY to $688 million. As a percentage of revenue, its pretax margin contracted 580 basis points to 3.9% from 9.7% in the third quarter of 2017.
Article continues below advertisement
Oil prices cooled off
Since early October, oil's price has been bearish as sanctions levied by the US government on Iran have been softer than expected. Oil's price is now down 26% from its peak of $76.40 per barrel on October 3 to $56.46 on November 15.
Earlier, analysts had been expecting stricter sanctions by the United States on Iran and had anticipated a resulting massive crude oil supply crunch. However, the US allowed temporary waivers to eight countries, including India and China, which are the major importers of Iranian oil.
Weaker Iran sanctions along with increased output from OPEC has staved off fears of a supply shortage, thereby cooling off oil prices in the international market. Lower oil prices have raised hopes for airline operators to increase their profitability in the coming quarters, which has been causing a surge in airline stocks (IYT) in the past few weeks.