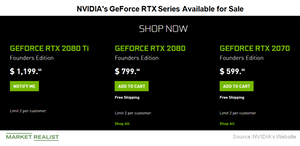 Should NVIDIA's Investors Worry about the RTX 2080 Ti's Problems?
Problems with new product launches are normal
In September, NVIDIA (NVDA) launched its next-generation Turing GPU (graphics processing unit) architecture. Any new product is often followed by initial problems and an expected failure rate. The question is what amount of failure is statistically tolerable and not a cause for concern among investors.
Article continues below advertisement
Should investors be alarmed by the RTX 2080 Ti's failure rates? 
Posts about the problems associated with NVIDIA's GeForce RTX 2080 Ti have been cropping up on NVIDIA's GeForce forums and Reddit. On the surface, the failure rates look to be affecting a large number of customers. However, forums aren't an adequate way to identify failure rates. People use social media more frequently to report complaints about a product than praise for it, and more negative comments than positive ones can create an illusion of high failure rates.
Most reports are also not verified, which means there could be trolls among those with genuine problems. Hence, the exact failure rate of the product isn't known. For third-party RTX 2080 Ti GPUs, UK retailers noted that the failure rates were not significant. However, the problem is more prominent with the Founders Edition cards, and return merchandise authorizations are the best gauge of the actual failure rate.
NVIDIA is unlikely to reveal this information, so it's difficult to say whether the failure rates are alarming. If these are normal problems associated with a product launch, they could fade with time. If they're grave, the matter could become more pronounced with a growing number of unhappy users.
In response to the above-mentioned issues, an NVIDIA spokesperson recently told Digital Trends, "[We are] working with users individually but we are not seeing any broader issues." On the buying page of the RTX 2080 Ti Founders Edition on NVIDIA's website, a "Notify Me" option appears, indicating that the company is working on the issue.
Problems with the RTX 2080 Ti could affect NVIDIA's short-term sales, reducing competitive pressure on Advanced Micro Devices (AMD). The problems also have the rumor mill churning about NVIDIA's upcoming GPUs.