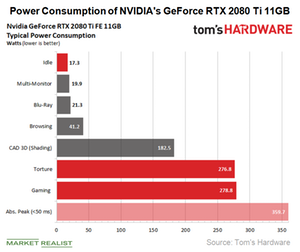 Should NVIDIA's Investors Worry about Faulty RTX 2080 Ti GPUs?
Impact of faulty RTX 2080 Ti problems on NVIDIA's investors 
In the previous article, we learned that NVIDIA's (NVDA) new Turing-based GeForce RTX 2080 Ti Founders Edition GPU (graphics processing unit) has been facing performance issues.
The company has acknowledged the problem and stalled the sales of these GPUs. However, its acknowledgment statement lacked clarity and only stated that the problem had slipped past the company's quality control test.
NVIDIA's statement failed to specify what percentage of RTX 2080 Ti GPUs had been affected by this problem. Was the test escape only in a particular batch or in all GPUs? Is the problem likely to affect other GeForce RTX GPUs, such as the GeForce RTX 2080 or 2070? Does the fault lie in the GPU's architecture or in some component?
Article continues below advertisement
Each of these questions holds financial significance. If the issue is limited to a particular batch of shipments or one particular GPU variant, then the impact is limited and may not be a cause for concern among investors and customers. But uncertainty surrounding the magnitude of the problem—that is, whether it will affect other Turing GPUs—could slow the pickup of all other Turing GPUs. ExtremeTech currently advises gamers not to buy NVIDIA's other RTX GPUs.
Speculation around the faults in the RTX 2080 Ti
While NVIDIA is mum about the root cause of the problem, several third-party tech magazines have been speculating about the fault.
On its YouTube channel, Gamers Nexus tested the RTX 2080 Ti GPUs and found that the blue screen of death issues occurred due to incompatibility with specific monitors. According to a hypothesis by Tom's Hardware Germany, the problem could be with Micron's (MU) 11 GB (gigabyte) GDDR6 (graphics double data rate) memory, which is integrated into the RTX 2080 Ti. Some reports stated that the replacement cards from NVIDIA integrated Samsung's (SSNLF) GDDR6 memory instead of Micron. But that alone is not strong proof. The replacement cards might have Samsung memory chips because those were the only chips available at NVIDIA's repair shop.
Next, let's look at the market's reaction to these updates.