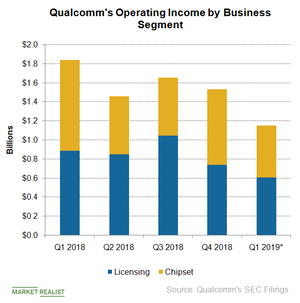 Qualcomm Defends Its Device-Level Licensing Model
Qualcomm's licensing model
Qualcomm's (QCOM) legal department has been pretty busy handling the lawsuits related to its licensing model. The company licenses SEP (standard essential cellular patents) for a royalty of 3.25% of the smartphone price.
The royalty is capped at either $13 per phone or up to a $400 smartphone price. Qualcomm's SEPs facilitate interoperability, which means users of two different telecommunications carriers can message and call each other.
Article continues below advertisement
On November 6, US Federal Court Judge Lucy Koh gave a preliminary ruling that Qualcomm should license some of these SEPs to rivals such as Intel (INTC). The ruling doesn't prevent Qualcomm from device-level licensing, but it opens the way for chip-level licensing. Qualcomm opposes chip-level licensing, as it would hamper its model, which is based on device-level licensing. It earns more than 55% of its profit from licensing.
Qualcomm defends device-level royalties
Contending the ruling, Qualcomm stated that chip-level licensing is impractical as it fails to understand the workings of the cellular technology. The company explained that the cellular modem inside the smartphone is just one part of its cellular technology. There is a broader cellular network of several chips and software that facilitates high-speed wireless broadband. Hence, the cellular industry has been licensing its technology to smartphone makers and charging a royalty at the device level for decades.
A chip-level licensing model would put Qualcomm at a disadvantage, as other countries support device-level royalties.
Qualcomm's response to the preliminary ruling
On Qualcomm's fiscal 2018 fourth-quarter earnings call, Qualcomm's CEO, Steven Mollenkopf, stated that the company was still in settlement talks with the US FTC (Federal Trade Commission) despite the ruling. He said, "This is a partial summary judgment ruling on one of the issues, and a full trial is still to come next year. In our view, the ruling is incorrect."
On the call, Qualcomm's chief legal officer, Donald Rosenberg, stated that a partial summary judgment would not have an immediate impact on the company, as it has valid licenses in place. While the settlement with the US FTC is ongoing, Qualcomm has settled a similar case with Taiwan's FTC. We will look into this next.