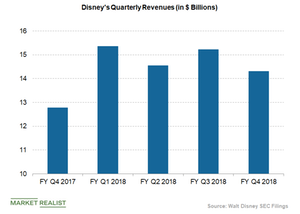 On What Condition Did Disney Receive Regulatory Approval?
Disney to buy Fox's assets
Article continues below advertisement
Regulatory approval
Disney received US (SPY) regulatory approval for the deal in summer 2018 on the condition that it divest 22 of Fox's regional sports networks, as it already has ESPN. According to CNBC, New Fox might want to regain control over the 22 regional sports networks. According to sources, these networks could be worth ~$20 billion to Disney.
On November 10, Disney received regulatory approval in Europe (EFA) on the condition that it divest its interest in the History, H2, Crime & Investigation, Blaze, and Lifetime channels, which are controlled by A+E Networks, in the European Union (EZU). A+E is a joint venture of Disney and the privately held Hearst Corporation.
If the deal closes, Fox's brands and creative assets, including Searchlight, FX, and National Geographic, will mix well with Disney's Pixar, Marvel, and Lucasfilm properties and its ABC assets. Fox's massive collection of movies and TV programming will broaden its content portfolio and boost its revenue.