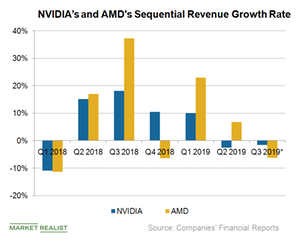 NVIDIA's Revenue Growth to Slow in the Second Half
NVIDIA's revenue trend
NVIDIA (NVDA) earns 85% of its revenue from selling GPUs (graphics processing unit) across four platforms: gaming, data center, professional visualization, and automotive.
NVIDIA's third quarter is a seasonally strong one, as back-to-school season sales pick up, and the company reports full quarter sales for the new gaming GPUs it launches at the end of July. However, things are likely to be different in fiscal 2019.
Article continues below advertisement
Crypto
NVIDIA reported strong growth in the first two quarters of fiscal 2019 because of the cryptocurrency boom, when miners purchased NVIDIA's and Advanced Micro Devices' (AMD) GPUs to mine currency. The boom created a GPU shortage in the first quarter, which forced the two companies to increase their supply. But the crypto boom faded in the second quarter, creating excess GPU inventory in the retail channel. This development saw NVIDIA's fiscal 2019 second-quarter revenue fall 3% sequentially to $3.12 billion. However, it managed to beat analysts' consensus estimate of $3.1 billion. The true impact of the end of the crypto boom will likely be felt in the third quarter as crypto-related sales fall to zero.
In the third quarter, AMD's revenue fell 6.3% sequentially to $1.65 billion, lower than its own guidance of $1.7 billion, which excluded any crypto-related revenue. The excess fall in its revenue indicated that crypto-related sales had been more than what AMD had expected. Many users purchased gaming GPUs but used them to mine cryptocurrency, making it difficult for AMD and NVIDIA to estimate crypto-related sales.
Turing
NVIDIA launched its Turing-based gaming GPU on September 20, which means its fiscal 2019 third-quarter earnings will only include its first month's worth of sales of its new GPUs. When a company launches new GPUs, gamers tend to delay their purchases of previous-generation GPUs.
After considering the impact of cryptocurrency and transitions to next-generation GPUs, NVIDIA expects its fiscal 2019 third-quarter revenue to rise 4% sequentially, below the seasonal double-digit sequential growth it usually reports in the third quarter. However, if we consider AMD's earnings, we can expect NVIDIA's fiscal 2019 third-quarter revenue to fall 1.5% sequentially.
Next, we'll look at the company's gaming business.