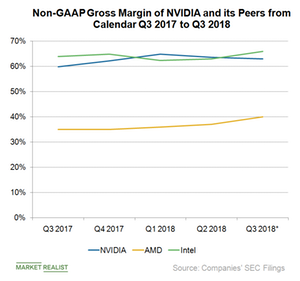 NVIDIA's Profitability Normalizes with the End of the Crypto Boom
Correlation between NVIDIA's profitability and cryptocurrency
So far, we've learned that NVIDIA's (NVDA) gaming revenue has slowed due to the end of the cryptocurrency boom, whereas its other businesses have continued to witness strong growth. The crypto trend has also affected the company's profits.
NVIDIA's profit margins expanded in the fourth quarter of 2017 as it witnessed strong demand from crypto miners, creating a GPU (graphics processing unit) supply shortage and increasing GPU prices. The company had to increase its supply to replenish the channel inventory.
In the fourth quarter of 2017, NVIDIA's non-GAAP (generally accepted accounting principles) gross margin expanded to more than 62%, whereas its operating margin expanded to over 40% for the first time. Advanced Micro Devices (AMD) didn't report strong profit margins like NVIDIA did.
Article continues below advertisement
However, NVIDIA's margins contracted slightly in the second quarter as the crypto boom faded and the retail channel was stuck with excess inventory. On NVIDIA's earnings call in the second quarter, its management stated that its profit margins had normalized from the windfall gains arising from the crypto boom.
NVIDIA's third-quarter margins
In the third quarter, AMD and Intel (INTC) reported strong expansions in their margins because of an unexpected increase in PC CPU (central processing unit) sales. However, NVIDIA's profit margin could fall in its third quarter due to overall weakness in the GPU market and problems with its RTX 2080 Ti GPUs.
NVIDIA expects its gross margin to contract 70 basis points sequentially to 62.8% and its operating margin to contract 100 basis points to 40.3% in the fiscal 2019 third quarter.
EPS
NVIDIA does not provide EPS guidance. However, looking at the developments in the consumer GPU market, analysts have lowered their fiscal 2019 third-quarter EPS guidance for the stock from $1.82 to $1.72.
NVIDIA has been beating analysts' EPS estimates by a wide margin for more than two years. If it succeeds in doing so in the third quarter, its stock price could rise following its earnings release on November 15.
NVIDIA's higher margins have resulted in higher returns, attracting many long-term investors. We'll look into this development next.