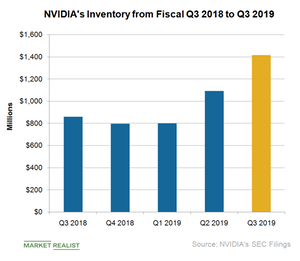 NVIDIA Blames AMD For Excess GPU Inventory
By Puja Tayal

Nov. 20 2020, Updated 2:08 p.m. ET
NVIDIA's revenue hit by large crypto inventory
NVIDIA's (NVDA) fiscal 2019 fourth-quarter revenue guidance missed analysts' estimates by $700 million. This revenue miss was purely from the gaming segment, as an unexpected increase in its midrange GPU (graphics processing unit) inventory forced the company to halt its midrange shipments. NVIDIA's inventory rose 30% sequentially and 65% YoY (year-over-year) to $1.4 billion in the third quarter of fiscal 2019. NVIDIA CEO Jensen Huang was surprised by the magnitude of the GPU inventory.
Article continues below advertisement
According to The Wall Street Journal, New Street Research analyst Pierre Ferragu stated that the GPU inventory rose significantly as crypto miners dumped their GPUs in the secondary market. In an interview with VentureBeat subsidiary GamesBeat, Huang stated that he is not sure if the inventory is from the secondary market, because there are a lot of fresh products in the channel.
Where did the excess GPU inventory come from?
During NVIDIA's fiscal 2019 third-quarter earnings call, Huang said, "I think the channel has more than 12 weeks of inventory between us and the other brand," with "the other brand" being Advanced Micro Devices (AMD).
In the GamesBeat interview, Huang was asked how cryptocurrency, which accounted for only 10% of its quarterly revenue, expanded to one entire quarter's worth of inventory. He stated this was because the channel also included AMD's inventory.
Article continues below advertisement
He explained that since NVIDIA's GTX 1080 is the top-selling GPU and AMD's RX 580 is number 24, the ratio of GTX 1080s to RX 580s in the channel inventory is 90:10. If AMD suddenly injects RX 580 GPUs into the channel and changes the inventory ratio to 50:50, it would create excess inventory, which is difficult to sell. The sudden rise in GPU inventory because of declines in crypto-related GPU demand suggests that this instance is a one-off and not affecting its long-term growth opportunities.
Even though the crypto headwinds may be temporary, the company's growth from other platforms may not be sufficient to offset the impact of cryptocurrencies in just one quarter. Analysts believe NVIDIA may need three or four quarters to overcome the blow and return to normal growth. We'll look at analysts' comments next.
Check out all the data we have added to our quote pages. Now you can get a valuation snapshot, earnings and revenue estimates, and historical data as well as dividend info. Take a look!