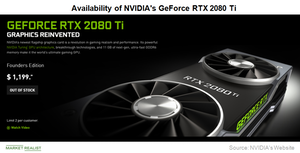 NVIDIA Acknowledges Problems with GeForce RTX 2080 Ti GPUs
Problems in NVIDIA's GeForce RTX 2080 Ti GPUs
So far, we've learned that NVIDIA's (NVDA) and Advanced Micro Devices' (AMD) gaming revenues have been significantly impacted by an unexpected increase in the inventory of secondhand Pascal GPUs (graphics processing unit). This has slowed the pickup of NVIDIA's next-generation Turing-based GeForce RTX GPUs, which it launched in late September.
Another reason for the slow pickup of the new GPUs was the technical problems faced by early adopters. The early adopters of these GPUs started reporting performance issues in mid-October. NVIDIA's GeForce forums and Reddit were filled with people reporting problems, which included crashes, black screens, artifacts, the blue screen of death, and the GPU's complete failure to work.
Digital Trends noted that a majority of these issues had been reported for the Founders Edition of the RTX 2080 Ti and some third-party 2080 Ti cards from Gigabyte and Asus. NVIDIA even replaced some GPUs, but the replacement cards also suffered from similar problems.
Article continues below advertisement
NVIDIA agrees to RTX 2080 Ti issues
On November 15, an NVIDIA employee acknowledged the problem and wrote on the GeForce forums, "Limited test escapes from early boards caused the issues some customers have experienced with RTX 2080 Ti Founders Edition." This statement came after one gamer's card burst into flames.
NVIDIA's RTX 2080 Ti Founders Edition which can be purchased on the company's website is currently out of stock.
Interpreting NVIDIA's message
The term "test escape" means that the problem was not caught in the company's quality control testing until it reached the hands of end users. These test escapes can occur due to human error or due to hardware issues such as faulty resistors, capacitors, or other components of a printed circuit board.
The above statement acknowledges the problem, indicating that the company is aware of the issue and is working on it. However, the statement leaves many questions unanswered from an investment standpoint. We'll explore this matter in the next article.